Tag: LV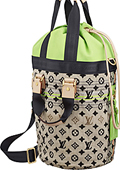 Collections
Here's the complete line-up of the bags from Louis Vuitton's Spring/Summer 2010 collection. It comprises of 7 lines, all of which represents Marc Jacobs' idea of the new age traveler.

Almost all of the pieces are cross-body bags and some bags has fox tail and tassel charms hanging from them.

In this month will be launched the Monogram Cheche line bags. The Cheche bags are made from jacquard beige fabric with black monogram pattern contrasted with fluorescent and Lurex threads of vibrant pink, green, and blue color combination.