Tag: Luca Patrone
Career
Desislava Pancheva was born on 14th March 1982 in Pleven. In 2000 she finished a Professional School in textile and clothes with the specialty of Constructing and Modeling of Clothes. After 2 unsuccessful tries to enter the university and study pharmacy, a disappointment and a love affair, she decided to try in the sphere of Industrial design in the Polytechnic university in Milan.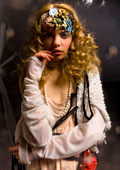 Luca Patrone was born in 1973 in Genova, Italy. After taking the degree in management engineering, he finished his study in Mexico city and then in Colombia. After coming back to Italy he began to work as a consultant.

But his passion turned to be his work very soon and thus he started his photographer career. Now he has over 5 years of experience in commercial and fashion photography. He lives in Milan, one of the world Cities of fashion. He answered some questions exclusively for our site.