Tag: Silistra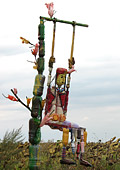 Curious
You won't believe that these unique artworks are in Bulgaria, 5 km from the town of Silistra, near the city's modern landfill.

Made mostly from plastic bottles and scraps, they look great and détente the surrounding landscape with their bright, but aesthetically selected colors.

It is true, that whoever has imagination and talent can do many unique things, even with scrap!