Tag: Svatben katalog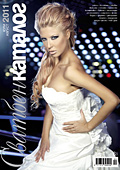 Fashion magazines and books
Andrea is on the cover of the biggest Bulgarian magazine for bridal fashion and wedding services - Svatben katalog (Bridal catalogue). In the new issue are presented in detail suitable for the summer season bridal and formal toilets of the most popular Bulgarian and foreign fashion designers. Andrea grabs the attention in a vanguard dress of the brand Enzoani.

Today the most important criteria for the bridal garments is so that they match the style of the lady that wears them, no matter if it is a gorgeous dress, decorated with gold, a suit with trousers of a bare back dress.
Fashion trends
Eleonora Mancheva is on the cover of the largest bridal fashion and services edition in Bulgaria - "Svatben katalog" magazine. The new copy of the specialized reference book consists 256 pages, on which suitable for the summer bridal and formal dresses from the most famous Bulgarian and worldwide designers are presented.

oday the most important criterion regarding bridal dresses is to match the style of the lady wearing them, whether it's a luxurious dress decorated with gold and brocade, a suit with pants, or a summer dress with shoulder-straps.