Tag: high-fashion
Collections
Sportswear, function and a generous splash of retro-futuristic shimmer come together for a high-fashion extravaganza in H&M Studio AW15. Taking cues from the late 60s futurism this collection blends sporty skiwear with rich colours and embellishment.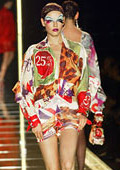 World fashion
Haute couture refers to the designing, creating, and selling exclusive custom-made, high fashion women's clothes.

The term "haute couture" comes from the French language. Haute means "high" or "elegant", Couture means "sewing" or "dressmaking".

A business must be a member of the Syndical Chamber for Haute Couture in Paris, which is regulated by the French Department of Industry, in order to be called a haute couture house.

Originally referred to French fashion and in France, now the term Haute Couture is also used loosely to describe all high-fashion custom-fitted clothing.