Tag: make-up artist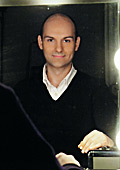 Make-up
In May 2009 the make-up artist of Bulgarian stars - Kiril Chalakov celebrated his 15-year work anniversary.

He organized for his partners and clients through the years an elegant presentation at the Sheraton Sofia hotel, called "La vie en rose".

There he presented his album "Kiril Chalakov 15 years beauty", which includes selected photos of twenty of the most popular women in Bulgaria.

Many surprises expected the guests of the event.