Autumn/Winter 2015-2016 Fashion Trends: Jewelry
We can not skip the current winter season jewelry, presented during the Fashion Weeks in London, Paris, New York and Milan. Designers' spectacular and extraordinary jewelry - earrings, neck ornaments and bracelets. We have selected for you the most interesting proposals of the runway shows.
Round neck jewelry - this kind of jewelry is really trendy this season. Coarse, rotated and huge. You can bet on the bronze cleared imitations. The more irregular shape, the more modern. Etro, Balenciaga and Givenchy are the inspiration for this type of jewelry.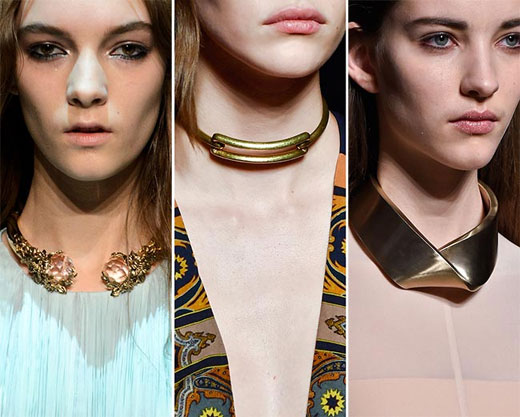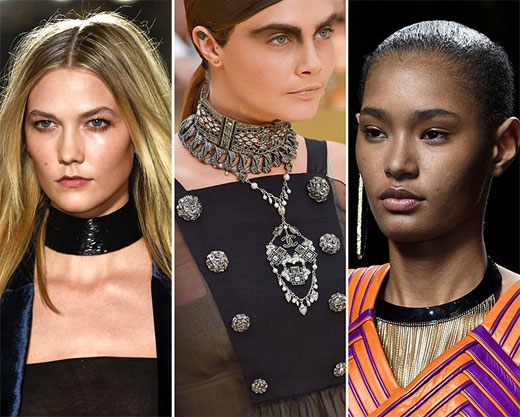 Breast necklaces - the kind of necklaces are down to the breast and they are really modern, especially if the garment has deep neck. The most frequently seen are the floral, the geometric and the weird forms. These jewelry can be seen in Dolce&Gabbana, Giambattista Valli, Dsquared2 collections.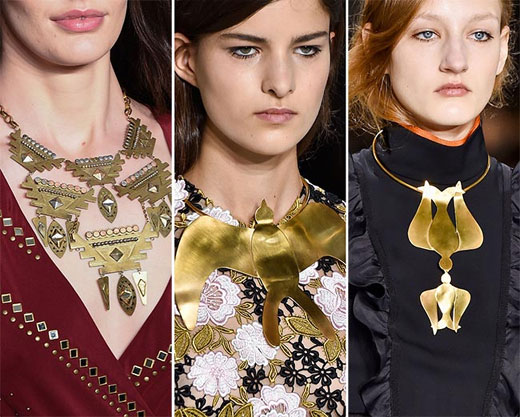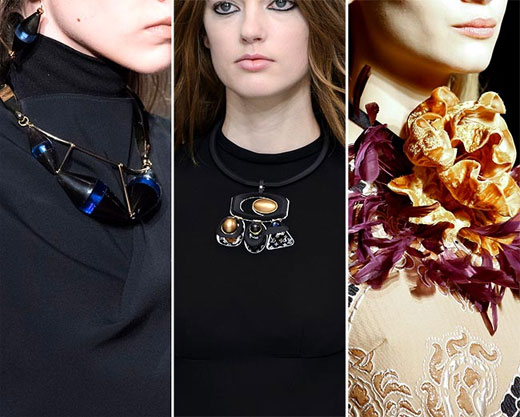 Drop earrings - Plated earrings in general are in, but when they come in dropped looks we pay extra attention for that draws the eyes to the side of the face, the shape of the ears and the gentle curve of the neck. Good examples are the variations of Marni, Balmain, Louis Vuitton.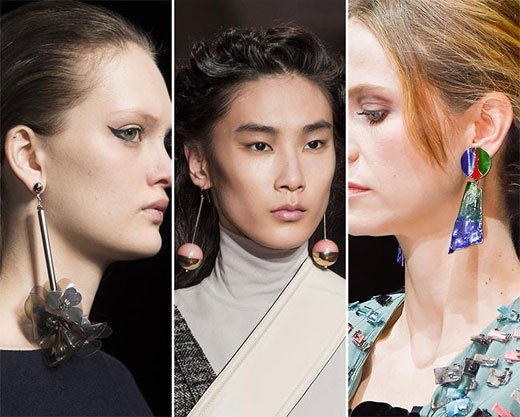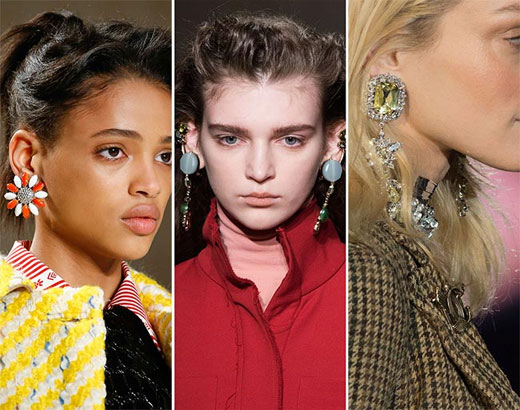 The geometry - the geometric forms for the cold season can be seen in earrings, rings, necklaces and bracelets. You can choose between different forms - triangle, square, oval and others. The bracelets must be rough - unusual and interesting. See the suggestions of Saint Laurent, Elie Saab and Zimmermann.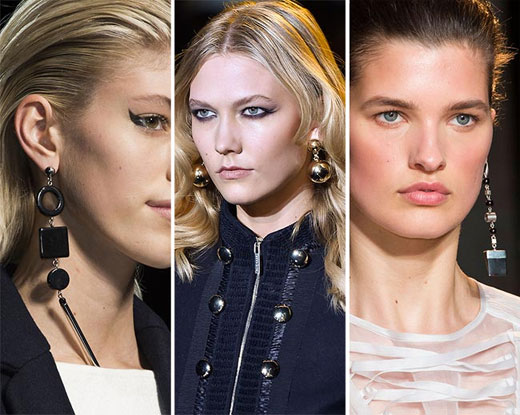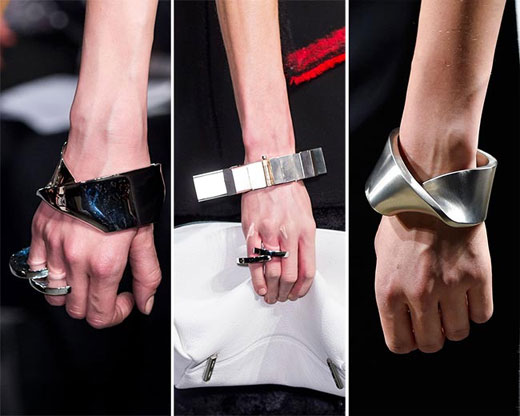 Pearls - if you have jewelry with pearls, now is the moment to wear them. Every woman should possesses jewelry with pearls - it is classics. There is no matter if the pearls are real or not. For Autumn-Winter 2015, more pearls, more trendy. This is the motto of Jasun Wu, Stella McCartney and Victoria Beckham.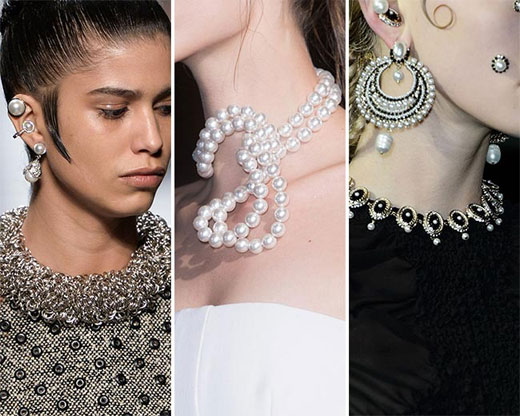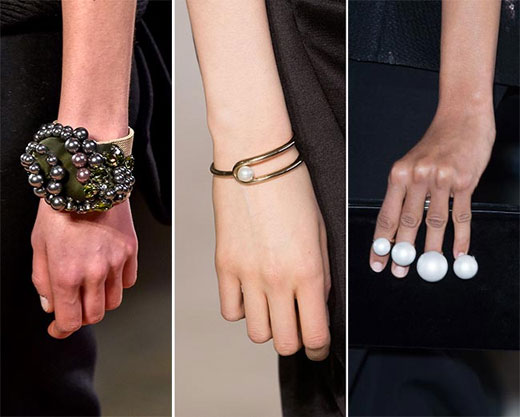 Multiple rings - nothing new. This trend is on the top for a second year. You can enrich your collection with some rings with stones and pearls. Be inspired by Victoria Beckham, Gucci, Stella McCartney, Alexander McQueen.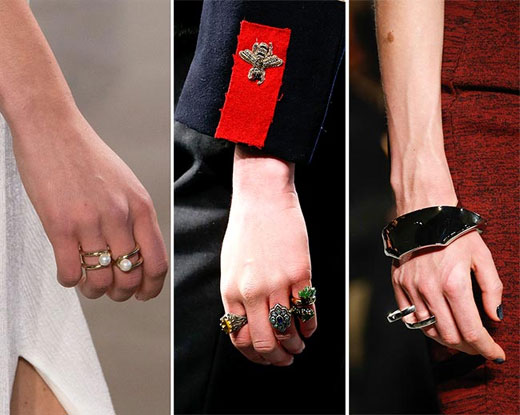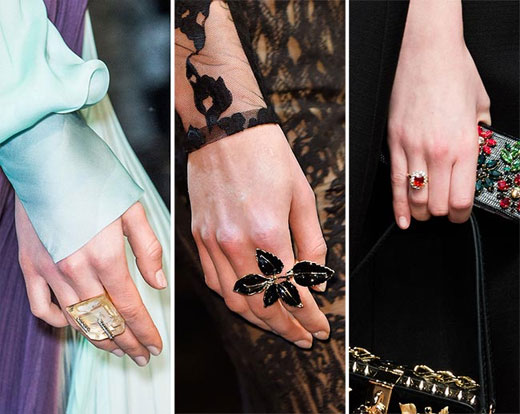 Retro jewelry - it's time to visit your grandmother. She will tell you and show you what were trends during her youth. The big stones, the large stitch and ancient jewelry. There is no matter what you will choose, you can't be wrong. The fashion houses Celine, Givenchy, Miu Miu used this trend in their collections.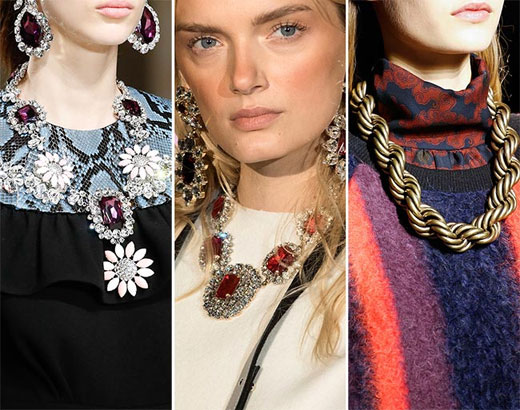 Shortly, during Autumn/Winter 2015-2016 you can wear everything. Don't forget to choose the right jewelry, so they will match to the outfit, be stylish. And the most important, smile more, this is the best accessory.


Hits: 14259 | Leave a comment