New brand ambassador of Premiere Vision New York: Nellie Partow, fashion designer and CFDA member
A NEW AMBASSADOR ILLUSTRATING PREMIERE VISION'S ENGAGEMENT IN CREATION
Womenswear designer Nellie Partow has been selected to represent Premiere Vision New York as its ambassador for the January 2017 edition.
Nellie Partow follows in the footsteps of Peter Trainor and Anne-Marie Maniego, the creative duo behind Max'N Chester (July 2016), and David Hart (January 2016). With this third U.S. ambassador, Premiere Vision continues its strategy of promoting local creation in countries where the brand is present with a show. Being at the heart of fashion and creativity is an ongoing mission for Premiere Vision, which attracts the global fashion industry each season.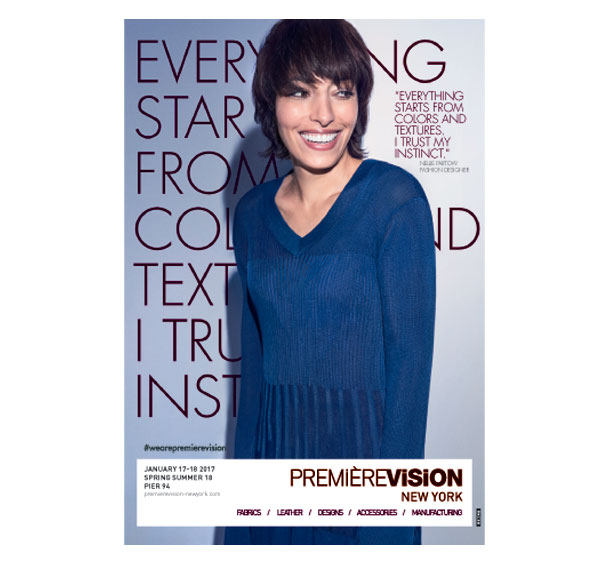 A CLOSE COLLABORATION WITH THE CFDA
To select its ambassadors, Premiere Vision partnered with the Council of Fashion Designers of America, whose mission is to strengthen the impact of American Fashion in the global economy. Collaborating on the choice of the brand ambassador is one element in the global partnership, which features several initiatives such as providing assistance to young brands and designers, curated tour of Premiere Vision for CFDA Members and support for the Fashion Manufacturing Initiative (FMI).

"The CFDA is committed to strengthening young designers' businesses through like-minded partnerships. Working with PV allows us to connect our innovative designers with expertly curated vendors. " said Adam Roth, CFDA's Vice President of Strategic Partnerships.

" We were pleased by this cooperation, which led us to choose Nellie Partow, a particularly committed designer with a strong fabric sensibility oriented towards innovation and high quality. Values that are part of the PV DNA, " said Guglielmo Olearo, Premiere Vision International Exhibitions Director.

NELLIE PARTOW, AN AMBASSADOR WITH A STRONG CREATIVE BACKGROUND
Nellie Partow earned a business degree from San Francisco State University and later obtained a degree in fashion design from Parsons School of Design. She worked alongside senior designers at Donna Karan where she was exposed to the inner workings of the industry at the highest level of quality, design and craftsmanship. Upon graduating, Partow landed her first position at Calvin Klein as women's knits and wovens designer. It was there that she was able to hone her own design sensibilities, one centered on clean, architectural lines. Having always been drawn to the traditional components of tailoring and the strength in men's silhouettes, she accepted an opportunity with John Varvatos. With nearly 10 years of design experience under her belt, Partow decided that the time had come to develop her own label and fill a niche in the market. She launched her namesake luxury collection in Fall 2011 and has since built a reputation for impeccable finishing, innovative fabrics, and a distinctive design aesthetic.

" As a young designer, it's incredibly important to support the companies who, generation after generation, offer amazing products. And they are at Premiere Vision. That's why this partnership is very important", said Nellie Partow.


Hits: 2986 | Leave a comment