Spring-Summer 2018 Fashion Trends from Premiere Vision Paris
Premiere Vision Paris defined some of the main trends for Spring summer 18. It sets forth with a fresh and witty outlook to trigger a desire for innovation, imagination and deliberately optimistic future scenarios.
Clothing envisioned as objects of desire. Fashion embraces fantasy, welcomes wit and whimsy, to see ahead to a smart and joyful season.
1. Trends in outerwear, coats, jackets, suits, pants, jeans, trenches, parkas, blousons and other tailored items - Plains and fancies, in cotton, linen-y, woollen or synthetic versions. Chic or relaxed suitings, tweeds and compact knits.
SUITS
Lively fineness: a new kind of non-limp fluidity energizes masculine suitings. Ultrafine yarns, dense and lightweight weaves, 100% wool or with a little stretch, fresh handles. Visuals remain elegant and sober. A trace of shiver: very subtly quivering cotton or wool suitings, moving seersucker checks. A summery and relaxed spirit. Up for air: transparency in a masculine vein. Very chic worsted wools with open weaves, dry gauze, mohair accents, and micro openwork for naturally breathable suits. Chic linen: very fine linen with no trace of rusticity for naturally elegant suitings. Blends with wool or cotton, barely perceptible slubs, and dry, slightly papery handles.
2. Trends in tops and light pieces: shirts, blouses, tunics, dresses, tee-shirts, sweatshirts, polos and undergarments. The season's plains and fancies, in wovens and knits, lace and embroidery.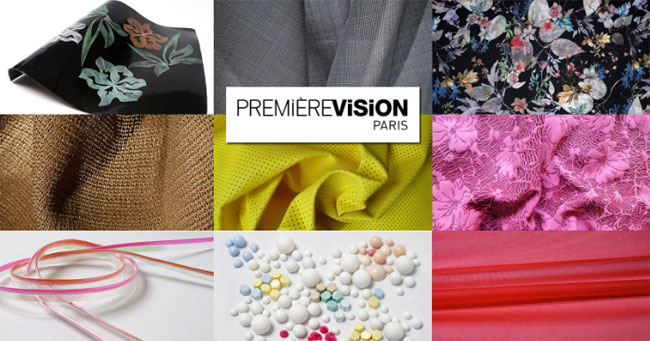 3. Trends in dressy fashion: evening, cocktail, wedding and ceremonies. Outstanding decors: silkies, lace, embroideries, ribbons and dressy tweeds.

GEOMETRIC IMPACT
A hand-drawn geometry infused with creative energy. Polygon jacquards and two-tone triangles, giant squares with uncertain edges and compositions that move. Graphic and colourful guipure.

Menswear-looking stripes flourishing on opulent silks and spectacular organzas.
COLOURFUL SHINE
Joyfully sparkling crystals and clear reflections for fully sunlit evening gowns. Mixes of cellophane and iridescent yarns, pale flecks of metal. Colourful reflections on silk surfaces, ultra-bright liquid knits. Deliberately exuberant, full-coloured metals to enhance jacquards.

4. Trends in spinning and flatbed knitwear. Yarns for wovens, circular knits and flatbed knits. Creative stitch development and garment ideas for flatbed knitwear.

YARNS AND FIBRES
Creating unexpected variations through dry vegetal fibres, slubs, twists, marls and irregular looks created out of mismatched combinations. Luminous fluidity achieved using ultrafine counts in viscoses, silks and cellulose blends sitting alongside unusual metallics that take on a luminous quality. Powerful volume creating a connection between active sport and nature. New natural appearances in synthetics resulting in weightless spongy volume through fibre or air-filled tubular yarns.

Photo and information: www.premierevision.com


Hits: 5223 | Leave a comment