MG2 CREATION presents ECLASTIQ with ROICA
Leading French weaver from Lyon, MG2, has presented the new ECLASTIQ collection made with ROICA™ at the recent Interfili?re salon in Paris. MG2 is a renowned manufacturer of 25 years deep experience, pioneering stretch and bi-stretch fabric innovations that are driven by creativity and technical know-how to make speciality elastic wovens for lingerie and swimwear.
Two years ago the company invested in a new dynamic team dedicated to maintaining the critical integration of skills and experience that built on all the essential and necessary specialist processes: twisting, covering, weaving, dyeing and finishing.
The culmination of this innovation is ECLASTIQ: the creation of beautifully soft, lustrous satin structures, patterns and jacquard effects with a perfectly controlled two-way stretch performance. The delicate shine and smart optic combined with its controlled bi-stretch fit is all thanks to the company's innovation team working to integrate the yarn selections with crafted fabric structures and smart finishings to create this new family of flawless stretch satins. The collection is 100% 'Made in France' from a blend of 75% polyamide and 25% ROICA™ premium stretch fiber. And because ELASTIQ is perfectly designed for lingerie and importantly swimwear, the ROICA™ Resistance family of yarns is a perfectly functional fit providing a customized technical chlorine resistant performance in all the ELASTIQ designs where luster, stretch and durability are demanded by every consumer today.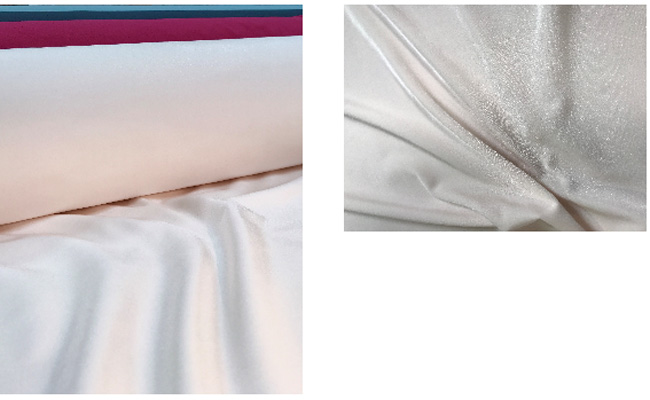 MG2: created 25 years ago in Lyon, the company was born from the meeting of one designer of fabric and one industrial man of dyeing. They developed together a special know how of bi elastic weaving fabric for the market of lingerie and swimwear. Today, the process is fully integrated: twisting and covering production, weaving for plane and jacquard fabric, dying production and design.
ROICA™ 'Advanced Fit for Living' is a premium stretch fiber with an innovative range of smart functions to suit every Modern Wardrobe need. ROICA™ shapes comfort with quality, performance and fit, adding value with values to everyday living for sport, intimates, fashion and business wear. ROICA™ is made by Asahi Kasei who also offer a range of yarns, marketed as Cupro that is truly unique and is designed to confer a cool, supple drape with an exquisite sensual silk-like touch. ROICA™ is a registered trademark of Asahi Kasei Corporation.


Hits: 3991 | Leave a comment