TINTEX reveals "NATURALLY ADVANCED COTTON" Collection at Premiere Vision, New York
At next Premiere Vision in New York, TINTEX is pleased to announce its complete switch from the use of conventional cotton and the concomitant launch of a new fabric range that is the highest expression of the new generation of cotton: Naturally Advanced Cotton by TINTEX. This new amazing range is able to offer an advanced smart choice of 4 different premium and responsible advanced cotton solutions such as BCI Cotton, ECOTEC® by Marchi & Fildi, GOTS certified organic cotton and Supima. These new fabrics maintain and upgrade the transparent, hi-tech and sustainable organics that are at the heart of the TINTEX DNA. They represent better, smarter ecomaterials with new levels of performance and hi-tech smarts, thanks to a first class expertise in specialist dyeing and finishing techniques, coatings and applications that use the latest research, equipment and processes to deliver it.
This new launch is confirming once more the commitment of TINTEX to its 'Naturally Advanced' position meaning "advancing beautiful, organic and natural materials to the next level combined with unique, hybrid 'nature-tech' smarts, with added value and creativity, thanks to dedicated investments that serve and secure our customer's demands both now and in the seasons to come" says CEO Mario Jorge Silva.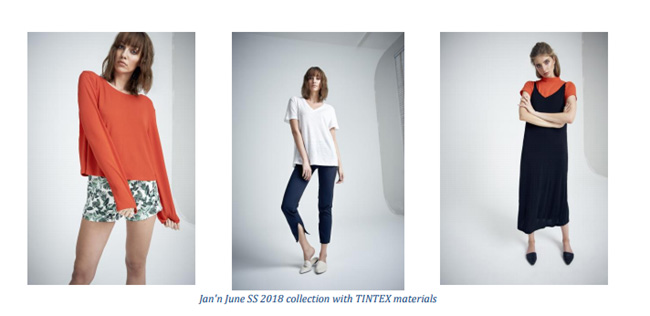 The "Naturally Advanced Cotton" on Collection by TINTEX:
BCI cotton: The Better Cotton Initiative has specific aims:
- Reduce the environmental impact of cotton production
- Improve livelihoods and economic development in cotton producing areas
- Improve commitment to and flow of Better Cotton throughout supply chain.

ECOTEC® by Marchi & Fildi: a range of full-colour yarns, a smarter cotton made from pre-consumer clippings that save up to 77,9% water during manufacture. This season TINTEX is also introducing a new, finer ECOTEC® yarn called Phoenix, also GRS certified, being made from 50% ECOTEC® cotton and 50% recycled polyester. Here wellbeing credentials are guaranteed with Tessile e Salute* certification.

GOTS Organic Cotton: The Global Organic Textile Standard GOTS is the most important standard for sustainable production of garments and natural fiber textile products from organic farming such as organic cotton or organic wool. GOTS criteria measures environmental, technical quality, toxicity and social impacts. GOTS is backed by independent certification for the entire supply chain.

Supima Cotton: Luxury, quality and craftsmanship are the benchmarks of American-grown, extra-long staple cotton. TINTEX offers 100% Supima precious fabrics and blends with tencel.

These special 4 cotton actors are made even more "advanced" by unique smart finishing as Plummy and Naturally Clean, for clean surfaces, bright colours, outstanding touch always with a very careful eye at the responsible values.

And now let's have a look at the season highlight - The new TINTEX collection plays with new colour balance techniques that deploy the benefits of chromo therapy for wellbeing alongside skin safe materials and finishing innovations.The collection uses up to 90% of smart and sustainable materials that include:
- 40% contemporary cottons (BCI, ECOTEC® , GOTS certified organic and Supima),
- 40% Tencel, Modal & Micromodal,
- 20% other smart materials as Cupro, Seacell, natural organic Linens and ROICA™ Eco Smart family of more sustainable stretch yarns with its own certificated credentials. This ROICA™ family of premium stretch yarns represent a world-first, GRS certified with at least 50% of source material being recycled from pre-consumer waste material. For coloration effects, the TINTEX range uses the ROICA™ Colour Perfect family of yarns that deliver a flawless colour surface and a responsible finish in all its new performance stretch fabric designs.
This season TINTEX can boast an additional confirmation about its commitment to responsible innovation: the STeP by Oeko-tex certification, that now goes together with the previous ISO 9001 and ISO 14001.

Enjoy colours that relax and tranquilize, colours that activate the Senses, colours that Recharge and Energize!

Key highlights include changeant effects in both yarn and piece dyed assortments, contrasting thermosensitive colour coatings, UV coatings and colorful applied patterns as well as new, extra-fine and semi-transparent jerseys, contrasted with fluid or compact qualities.

Recent TINTEX seasonal collections have been rewarded with a new roster of important brand adoptions for the upcoming season. They include the Jan'n June, German brand, founded in 2014, whose aim is to offer garments that are fashionable, affordable and environmentally responsible. Produced by a family owned company in Poland, Jan'n June operates a strong transparency policy with printed QR-Codes on the hangtags to give its customer's all the key information about fabrics, production values and certification for each and every garment.

The collection for SS '18 has a minimal look with clean cuts using a neutral color palette as part of this brand's appeal. The current collection is based on essential blacks, grays and whites accented with a contrasting red and a tropical print. An elegant summer mood is revealed in wide cut sleeves, open edges and subtle stripings. The designers have used material contrasts as an important feature of the collection, combining flowing fabrics with more rigid, stiffened qualities topped off with light knitwear pieces. Jan'n June has focused on key TINTEX 'Naturally Advanced' innovations including organic cottons and linens and Tencel.


Hits: 6268 | Leave a comment