Filatura C4 is a Re.Verso™ partner of excellence
For the first time at FILO Milano, Filatura C4 is proud to present, in addition to the already established Re.Verso™ collection for contract, the Blue Drop winning fabric by Audejas, made with Re.Verso™ re-engineered wool. A result born from the shared commitment and vision to integrate a new generation of eco values into their circular economy creations.
Since 1962, Filatura C4 has been known for smart innovation in furnishing contract markets and is now specializing in the recovery of both technical and natural fibers. The company offers a wide range of styles and typologies of yarns for the Technical, Natural and Classic categories. From the choice of raw materials up until the final packaging, Filatura C4 develops and proposes, together with its partners, tailored solutions apt to satisfy a diversified demand. Thanks to its background and its grounding, Filatura C4 is a unique partner for Re.Verso™ in the contract sector.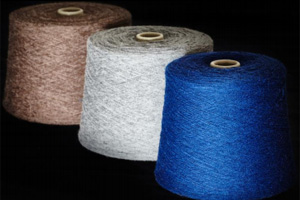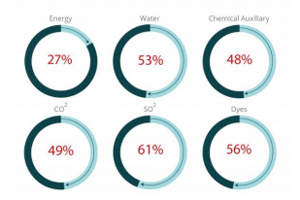 The collection was planned to satisfy the market's increasingly more specific needs, which require increased specialization and responsibility in the recovery of textile fabrics. Thanks to the Re.Verso™ system, the company offers quality products with low environmental impact through the use of pre-consumer wool packaging cuts which are collected, selected and processed in an accredited, fully transparent and traceable way. The Re.Verso™ collection is mainly employed in contract and home furnishing. The Re.Verso™ product is available in a range of counts going from 5,000 to 9,500 Nm and it can be supplied both in singles and in twisted plies. Re.VersoTM yarns by Filatura C4 are certified by ICEA (Environmental and Ethical Certification Institute) according to GRS (Global Recycled Standard) issued by the international body Textile Exchange and can boast unique savings (in comparison to virgin wool) in terms of energy (-27%), water consumption (-53%), and CO2 emissions (-49%), as certified by the LCA (Life Cycle Assessment) study led by Prima Q.

At Filo, Filatura C4 presents the prizewinning product signed by Audejas, leading Lithuanian producer of upholstery and home textile fabrics since 1946, made for the 75% of wool (55% Re.Verso™ wool) in mix with 20% polyamide and 5% other fibres. This product received the Blue Drop Award on the second day of MoOD 2017. MoOD Brussels is an exhibition dedicated to producers of upholstery, window and wall coverings for the residential and contract market. The Blue Drop exhibition is an inspiring overview of the "best of the best" of what you can find at MoOD selected from creations submitted by exhibitors. Unique in its own way because it is the world's only quality label of its kind for interior textiles. The "Floris" fabric by Audejas, won the first prize of the Circular Material category, being recognized as a product that made great effort reducing waste by focusing on ecocentric materials.


Hits: 6328 | Leave a comment