What Makeup is Right For My Skin
Foundation is a double-edged sword. Apply it correctly and you look like a movie star. Choose the wrong product and you could be the laughing stock of the town. The foundation you pick must not only match your skin tone, its consistency needs to complement your skin type. This is only one of a list of factors we've assembled here for you to determine which foundation is right for you.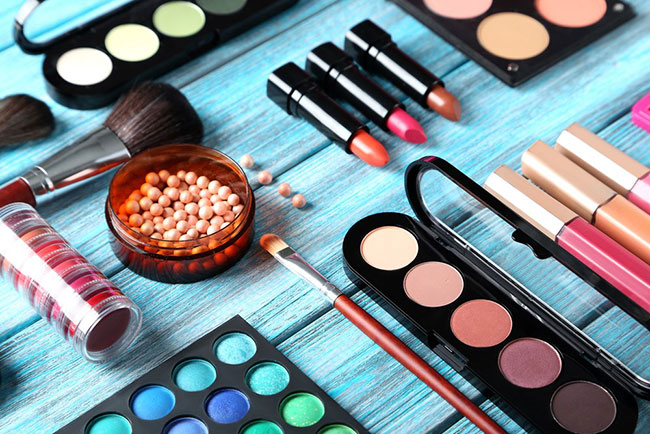 Type of Foundation: liquid, stick, cream or powder?
The foundation you should choose entirely depends on your skin type. Do you have dry skin? Oily? A little bit of both? The first step toward determining what foundation is right for your skin is studying what you'll be applying the makeup onto.
- Liquid, stick, cream and powder foundation
Most brands offer their foundation in all three iterations. Any of the foundation types will work if your skin is neither specifically dry or oily. What is up for debate is your skill level in applying said foundation types. Powder is easier to do well. Compact cream or stick foundation is also less tricky than liquid foundation, which requires more experience to apply evenly. How well you control the application process also depends on what tools you feel comfortable wielding, but we'll get into that later.
- Liquid, stick and cream foundation
While these are more difficult to apply without leaving noticeable lines, liquid and stick formulas are the preferred options for dry skin. When your skin is excessively dry, it stands to reason that the foundation you choose would need to act as a moisturizing agent. We've all seen the unfortunate outcome of foundation getting lodged into wrinkles, especially around the eyes and mouth. If you can't seem to get away from getting that caked-on look, consider using primer or your favorite moisturizer beforehand. Also keep a look out for foundations that contain primer.
- Oil-free liquid and powder foundation
When your skin is oily, you should steer clear of standard liquid foundation. You want to avoid your makeup sliding off. Choose foundations that have a powder base. The mineral particles of powder help absorb grease. Note that you do not want to clog your pores if you suffer from acne and breakouts. Covering up the problem doesn't make it go away. Instead, try a foundation enriched with salicylic acid, an important ingredient you'll find in most acne treatment creams and washes. This way, you'll be treating your skin and covering blemishes at the same time. Make sure to test it out on your hand first, to avoid potential reactions and rashes.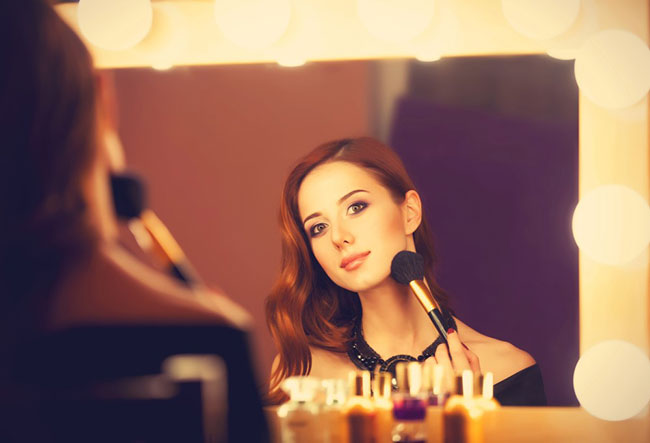 Type of Finish: luminous, matte, or semi-matte?
Makeup uses jargon that doesn't make all that much sense to the common woman. The closest analogy to understanding foundation jargon would be paint. When it comes to finish, think of how much shine you are looking to have. Sheen is another word for finish, if that makes sense. What is your intention? What are you looking to amplify or hide when applying foundation? When it comes to finish, what you intend on accomplishing with foundation will lead your decision. Each one fulfills a specific purpose. Here's a breakdown of the three finishes available for foundation:

- When your goal is to capture a youthful look, choose a foundation infused with particles that will reflect light off your face. This type of finish is called luminizing. It is perfect for anyone whose skin feels drab or sallow.

- When you've determined that you have oily skin, minimizing pores and greasy shine becomes a priority. Matte foundations are here to help. The matte finish evens out your skin thanks to powder, leaving pores reduced.

- When you're looking for a natural look, go for semi-matte. Most people do not want to look like they are wearing foundation at all, with semi-matte coverage, you'll get that beautiful, born-this-way look.

Type of Application: fingers, sponge, or brush?
What's the point of picking out the perfect foundation if you don't know how to put it on properly? Understanding what kind of foundation is right for you does not guarantee that it'll look perfect when applied. Makeup takes skill, and it helps to have the right tools. Most people try to get away with just using their fingers, but there's a lot to be said for buying some high-quality sponges and brushes.

- The risk with using your fingers is creating visible lines. However, fingers add a component of heat that the other two methods cannot. The warmth emanating from your hands blend the pigment in the foundation for a perfect color. Fingers will thus serve you well with liquid and cream foundations, though they should be avoided when it comes to powder. However mild, fingers also naturally hold moisture or sweat.

- As is the case with fingers, sponges can cause streaking, what we just referred to as visible lines. To avoid this fate, practice a blotting motion. You should also know that sponges have a high absorbency, which means you will use up your foundation very quickly if you are not careful. This can be expensive.

- Brushes require the least skill when applying both liquid and powder foundation. You'll want different ones for each product. Note that natural bristles absorb more product than synthetic ones, and that the shape of the tip serves a specific purpose.

With so many options, foundation can seem like a daunting world to saunter into. But as you now understand, there is a system to the madness. Finding the right foundation for you is worth the know-how and a pretty penny.


Hits: 9196 | Leave a comment

We are looking for men's suit tailors, fashion designers, managers, fashion consultants who want to share their knowledge and tips in an article or video and contribute to the site! Please email us at contributor@bgfashion.net Don't miss the opportunity as this will be a free advertisement for yourself and your menswear brand!