Bulgari "Between eternity and history" 1884-2009. 125 years of Italian jewels
Bulgari celebrated its 125th anniversary by inaugurating its first-ever retrospective exhibit in the prestigious Exposition Palace of Rome. It will remain open to the public from May 22 to September 13, 2009.
The "Between Eternity and History: 1884 - 2009" exhibit will cover the most significant phases in the history and evolution of Bulgari design, from the opening of the first store on Via Sistina in 1884 to the present day.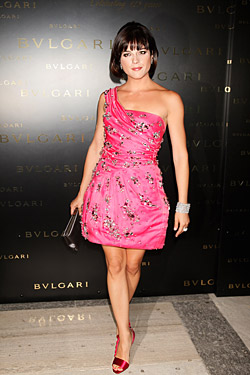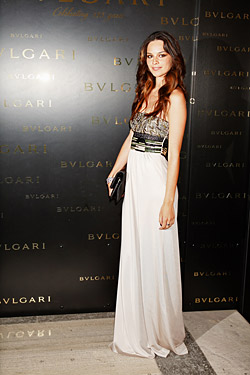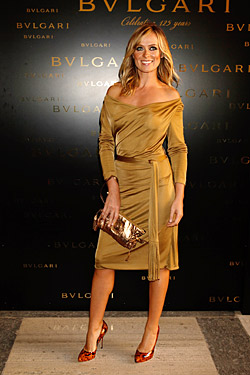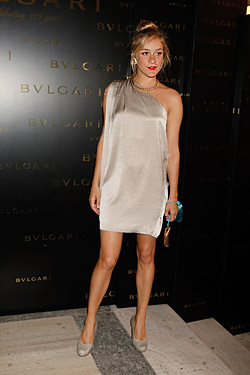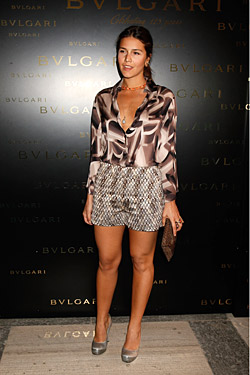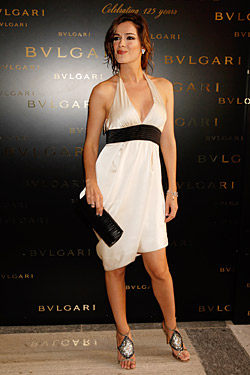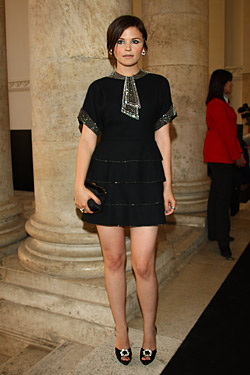 Attending the cocktail party for the inauguration were Rome Mayor Gianni Alemanno and many illustrious cultural figures, show business celebrities, well-known politicians, and important entrepreneurs in the Italian capital. Numerous Italian and international stars have arrived in Rome to celebrate this historic achievement with the Bulgari family: Jessica Alba, Ginnifer Goodwin, Chloe Sevigny, Alain Delon, Patricia Field, Jason Lewis, Enrique Iglesias, Selma Blair, Samantha Morton, Elsa Pataky, Valeria Golino, Riccardo Scamarcio, Beppe Fiorello, Vittoria Puccini, Cristiana Capotondi, Gabriele Muccino, Ferzan Ozpetek, Claudio Baglioni, Luca Argentero, Stefano Accorsi, Valentina Cervi, Francesca Neri, Giorgio Pasotti, and Nicoletta Romanoff.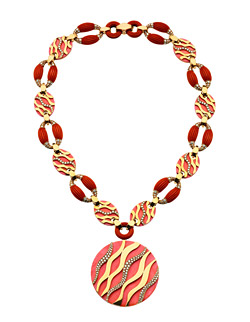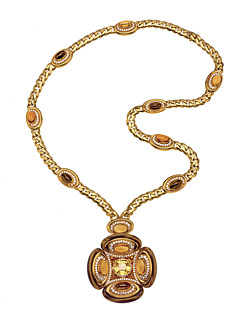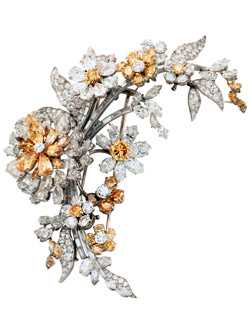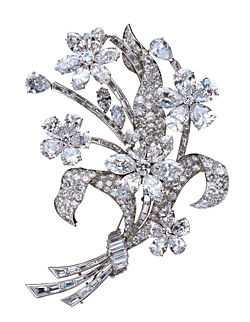 The inauguration of the retrospective exhibit also gave Bulgari a chance to increase its contribution to Save the Children's "Rewrite the Future" campaign, which was created to provide a quality education to 8 million children living in war-torn countries. Bulgari has pledged to support this campaign throughout 2009. In the presence of Charlotte Petri Gornitzka, General Secretary of the International Save the Children Alliance, Charlie MacCormac, Managing Director of Save the Children USA, Claudio Tesauro, President of Save the Children Italia, and many other international representatives of the organization, Bulgari presented an extraordinary limited edition collection, for the first time in public, composed of 11 unique couture jewels and 7 luxury watches. The collection will be auctioned off at Christie's New York next December 8, 2009.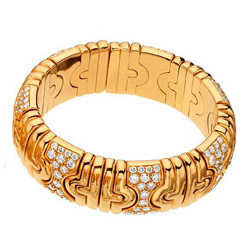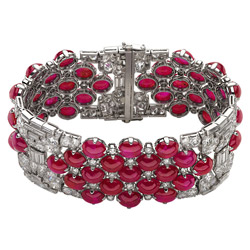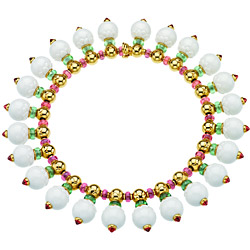 The total estimated value of the jewelry and watches is approximately 3 million euros, and the entire proceeds will be donated to "Rewrite the Future."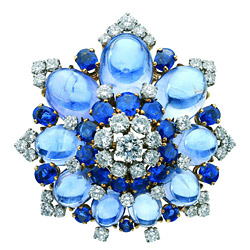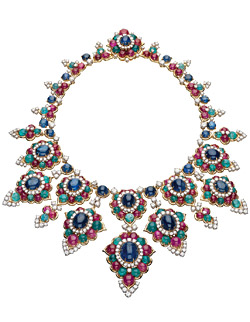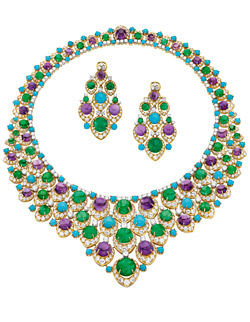 Photos:

1. Actress Selma Blair attends the BULGARI 'Between Eternity And History' opening exhibition cocktail party held at the Exposition Palace on May 20, 2009 in Rome, Italy. /Photo by Elisabetta Villa/WireImage for Bulgari
2. Katy Saunders attends the BULGARI 'Between Eternity And History' opening exhibition cocktail party held at the Exposition Palace on May 20, 2009 in Rome, Italy. /Photo by Elisabetta Villa/WireImage for Bulgari
3. Serena Autieri attends the BULGARI 'Between Eternity And History' opening exhibition cocktail party held at the Exposition Palace on May 20, 2009 in Rome, Italy. /Photo by Elisabetta Villa/WireImage for Bulgari
4. Actress Chloe Sevigny attends the BULGARI 'Between Eternity And History' opening exhibition cocktail party held at the Exposition Palace on May 20, 2009 in Rome, Italy. /Photo by Elisabetta Villa/WireImage for Bulgari
5. Margherita Maccapani Missoni attends the BULGARI 'Between Eternity And History' opening exhibition cocktail party held at the Exposition Palace on May 20, 2009 in Rome, Italy. /Photo by Elisabetta Villa/WireImage for Bulgari
6. Mar Saura attends the BULGARI 'Between Eternity And History' opening exhibition cocktail party held at the Exposition Palace on May 20, 2009 in Rome, Italy. /Photo by Elisabetta Villa/WireImage for Bulgari
7. Jessica Alba attends the BULGARI 'Between Eternity And History' opening exhibition cocktail party held at the Exposition Palace on May 20, 2009 in Rome, Italy. /Photo by Elisabetta Villa/WireImage for Bulgari
8. Ginnifer Goodwin attends the BULGARI 'Between Eternity And History' opening exhibition cocktail party held at the Exposition Palace on May 20, 2009 in Rome, Italy. /Photo by Vittorio Zunino Celotto/WireImage for Bulgari
9. Sautoir in yellow gold with coral (1970s).
10. Sautoir in yellow gold with yellow sapphire, citrines and diamonds (1970s).
11. En tremblant brooch in platinum with yellow and white diamonds, 1960.
12. Tremblant brooch in platinum with diamonds, 1957.
13. "Parentesi" bangle in 18 kt gold and diamonds (B508), ca 1982.Formed of parentesi elements spaced alternately by pave-set diamond panels decorated with brilliant-cut stones.
14. Bracelet set with rubies and diamonds, ca 1934.The wide flexible openwork band formed of three latticework motifs set with cabochon rubies and small circular-cut diamonds, connect by geometrical set with further circular-cut and baguette diamonds, mounted in platinum
15. Snake bracelet-watch in gold and polychrome enamel (W43), ca 1965.The flexible bracelet designed as a coiled snake, the scales decorated with white, black, green and turquoise enamel, the head with pear-shaped emerald eyes concealing a circular dial.
16. 18 kt yellow gold Chandra necklace with porcelain and semi-precious gemstones, ca 1990.
17. Earclips with diamonds and sapphires (E1719), 1960.Of stylized flower-head cluster design composed of oval cabochon and facetted sapphires of light and dark hues, highlighted by brilliant-cut diamonds
18. Brooch with diamonds and sapphires (P259), 1960Of stylized flower-head cluster design composed of oval cabochon and facetted sapphires of light and dark hues, highlighted by brilliant-cut diamonds.
19. Necklace in gold set with emeralds, rubies, sapphires and diamonds (N1397), 1967-1968.The front decorated with 10 large floral clusters set with cabochon sapphires in frames of brilliant-cut diamonds, cabochon emeralds and rubies, the back formed of similarly set foliate motifs.
20. Bib necklace and matching earrings in yellow gold with tourquoises, cabochon amethistes, cabochon emeralds and diamonds (1965).



Hits: 28301 | Leave a comment