Basic care tips for naturally beautiful hair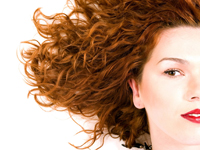 Here are some tips to help your hair look and feel beautiful and smooth.
Use a professional shampoo and conditioner that is formulated for your hair type. A good selection of those products is a must have. Just remember to stay away from the all-in-one conditioner and shampoo combos. Avoid shampoos that contain sodium laurel sulfate, because this chemical synthetic detergents that are used in dishwashing liquid. Look for shampoos made with decyl glucose – they are much gentler.
Choose a cut, tailored to the shape of your face and easy to maintain. Don't choose a new hair style based on popularity and fashion, choose one that will enhance your best features.
In the summer, don't forget the UV protection. Just like the skin, the hair too gets damaged by wind and sun. To prevent this, look for finishing products, sprays and lotions that block UV rays.
Take vitamin and mineral supplements to help the growing of healthy hair. Vitamin E, vitamin B, vitamin C have been shown to help hair growth and condition.

If you decide to change the color of your hair – leave it to the professionals. You can do irreparable damage on the hair with these procedures if you do them by yourself.
Get a trip every 5 to 7 weeks to prevent the split ends.
Treat your hair weekly with masks and conditioners. Even if your hair is healthy, during the summer months it can be damaged from the chlorine form the pool or from the UV rays. Give yourself a warm oil treatment which makes the hair more flexible and shiny.
Choose your styling products carefully. Avoid products that leave build-up on your hair.
Avoid sleeping with hair accessories – this can lead to hair damage.
Don't use a towel after your shower to dry your hair. This can cause split ends and other problems. Try to leave the hair dry by itself, without any rubbing or heating with hairdryer.

Hits: 11511 | Leave a comment