Sergei Grinko's Collezione Primavera/Estate 2011
New Sergei Grinko's spring summer 2011 collection gives his personal interpretation of the Shakespearian "Ophelia", throughout a cybernetic look, made of ice and light fog, where the protagonist will rest in a snow-white lake.
She is a princess, an odalisque, and at the same time a Roman slave. Sergei Grinko's woman lives in the future and demonstrates courage even in front of the extremes situations and chooses.
The harmony of the body is created throughout different shapes which give elegance and allure this futuristic woman.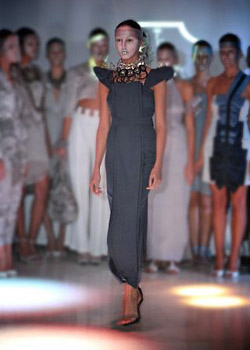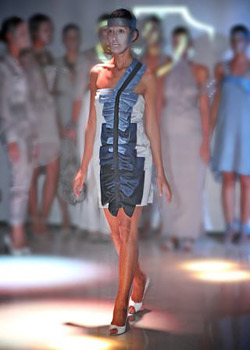 Sergei Grinko exasperates and accentuates the outline of his woman with "space geometrical" suits and sheath dresses, made of silk and taffetas, just to challenge the rules of gravity.

The future-tech effect is even present in the most romantic pieces, due to the use of transparent rubber strips crosses, for emphasizing the draped chiffon of the clothes.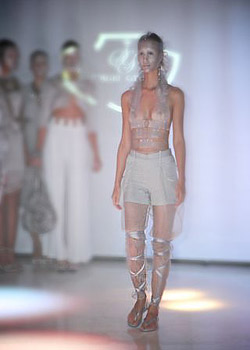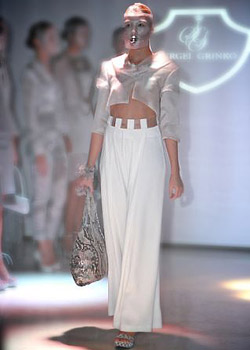 Jewellery, shoes and handbags exponential accentuate the above mentioned themes, throughout rubber chest protectors on a nude-look woman or through transparent voile wings on architectonic iced shoulder patches with plastic luminescent crystal collars. The all collection is dominated by cold tones of light gray and ice-white, with gradations of azure and of blue but at the same time with a sudden deep red coming from the magma which sometimes shocks the Arctic desert.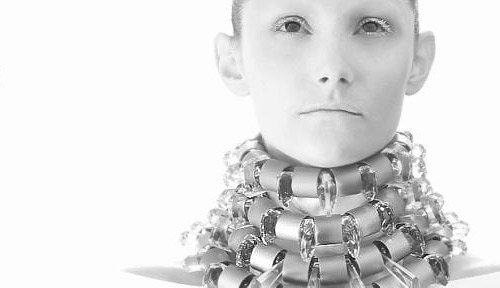 Hits: 14429 | Leave a comment