The key fashion trends for 2011
This year fashion designers offer us simple, fresh and comfortable outfits. Here's what should be a part of your wardrobe this year.
Return of the 1970′s
2011 will see elements of the 1970s fashion returning. There are two main outlooks for this trend which are 1970′s bohemian and 1970s sophisticated glamour. The sophisticated look includes styles for the day and night.

By day it's about hot pants, printed jumpsuits, belts and high waisted wide-leg trousers or flares, silk and satin smart bow-blouses, especially those with billowing or bishop sleeves and roll neck sweaters tucked into trousers or skirts.

By night the 1970′s fashion is long, suave gowns with draping, low necklines or dress slits; high sheen fabrics with a 1970s disco-inspired look, lurex or silk materials with a metallic thread and ruffled neckline paired with a fine pair of trousers and worn under a brocade blazer or tuxedo jacket.



Pastel colors - With the spring sun showing up in the sky, the streets will be filled with dresses in purple. This year will be all about the pastel colors such as lilac color, light pink, baby blue - they are a real hit.
Accessories to go with the 1970′s styles are handbags which are smart, high quality bags like a leather satchel for day, and a small bag with a long strap for night; thigh high boots worn with a skirt or hot pants; large leather belts slung over mini skirts or maxi dresses fused with sheer materials giving a 'see through' look.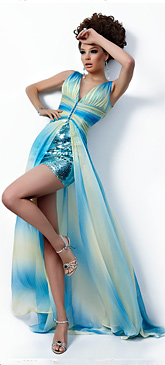 Photos:

1. christianlouboutin.com
2 - 4. BGNES
5 - 7. Models of Atelier Simon



Hits: 14527 | Leave a comment