Colour trends for Summer 2013
Summer fashion is often bright and uplifting, so are the colour fashion trends for 2013 any different? The catwalks this year have featured a variety of colours, tones and hues right across the spectrum, however there are a few fantastic stand-out trends to really heat up the year! Here is your guide to Summer 2013's ultimate colour trends.
Heat it up
Warm tones of red, yellow and orange lit up the catwalks to add a wonderful feeling of warmth that is perfect for summer. Eye-catching canary yellow is a huge trend, especially for those who want to show off their confidence with a fantastic radiant glow. Louis Vuitton showed us sixties-inspired bold, graphic fun with Chequered prints, the most fabulous being the bright yellow skirt and dress ensembles. Showing us that although yellow is a traditionally feminine colour by wearing it right and changing it up a little you can really make a statement. Sixties style is on trend this season so pick outfits with graphic prints in these eye-catching colours to combine these two terrific trends.
Fluorescent Fashion
This year, Summer fashion is about being seen whether you're tanning on a beach or dancing in the moonlight. Fluorescent fashion was certainly one of the biggest trends in the fashion shows. Neon pink, orange and yellow was featured in collections by House of Holland, Antonio Berardi, Osman and Simone Rocha. What is fantastic about the neon trend is that you can soften it with a simple sheer shirt for a more demure, feminine look. However why not make a statement by contrasting different tones with each other. The midi pencil skirt and crop top are both significantly on trend this year; use them together and a bold, confident and let's not forget fun outfit is born!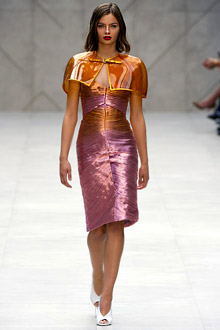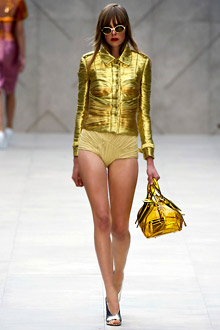 Spectacular Stripes
Vertical, horizontal or even diagonal, it really doesn't matter, stripes were scattered all over the catwalks for Summer 2013. Featured in collections by Marc Jacobs, Michael Kors and Oscar La Renta, escaping from this trend is simply impossible. From jackets, to jeans, to jumpers, stripes are in trend. Try nautical inspired colours of navy and red or break out of the box and get noticed in green, yellow or pink. Stripes are essential for Summer casual wear.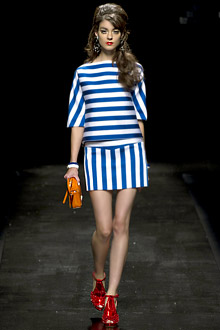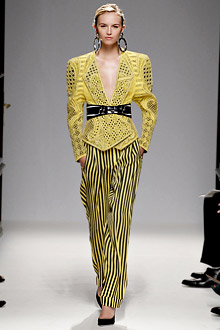 Simply White
A complete contrast from the big, bright and eye-catching colours of the fluorescent trend; another prominent colour of 2013 is white. White is a superb Spring/Summer choice - it's cooling, refreshing and understatedly beautiful. This colour was featured in the major shows and is fabulously used in collections by Victoria Beckham, Alexander Wang, Prabal Gurung and Jil Sander. Stunningly simple garments varied from luxuriously long ethereal designs to geometric, crisp striking pieces. White is perfect to use against pale pinks, blues and base colours like khaki to create a subtle, sophisticated feminine style. Use white as a standalone, singular-coloured outfit to produce a silhouette exuding both confidence and superior style.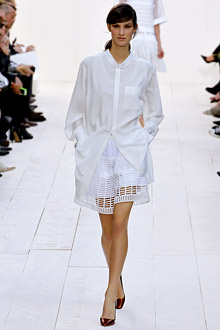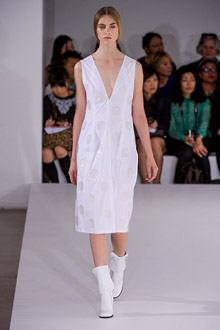 So to really turn up the heat this year, stand-out in neon, create a sensational sixties-inspired style with bold, bright colours or make a simple yet striking statement in white. For day time, tone colours down with soft, sheer fabrics then bring them to life at night to really show off your confidence and personality. At evesapple.com this season's colour essentials can all be seen so get experimental with this season's style; the featured colours make anything possible.

Photos - models from Spring/Summer 2013 collections of:
1. Michael Kors
2. Louis Vuitton
3-4. Burberry Prorsum
5. Moschino
6. Balmain
7. Chloe
8. Jil Sander





Hits: 21441 | Leave a comment