Rahul Mishra wins 2013/2014 International Woolmark Prize
The Woolmark is the world's best known textile fibre brand, established in 1964. The Woolmark brand is owned by Australian Wool Innovation (AWI), a not-for-profit company owned by more than 27,000 woolgrowers. AWI's vision is to be a significant contributor to a vibrant, stable and profitable wool industry providing the world with the best natural fibre. The company works throughout the global supply chain – from woolgrowers through to retailers.
The company mission is to enhance the profitability, international competitiveness and sustainability of the Australian wool industry; and increase demand and market access for Australian wool.
Merino wool provides stability, resilience, softness and luxury to the tailoring industry. The fibre has long been a favourite of designers, but younger consumers, born in an era of 'disposable' fashion know too little about the natural benefits. Wool is a 100 per cent natural, biodegradable and renewable fibre.
Sheep live on grass, water, fresh air and sunshine. Wool is a fibre that is grown – not man-made. Every year sheep produce a new fleece, making wool a renewable fibre source.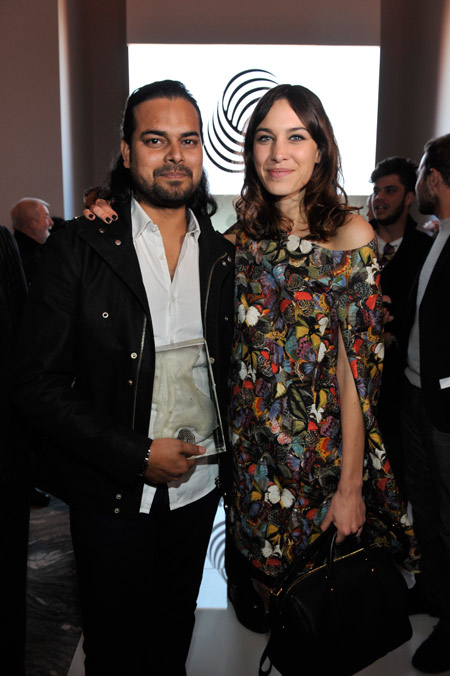 Milano, Friday 21st February 2014 – Rahul Mishra was announced the winner of the 2013/2014 International Woolmark Prize (IWP), during the final awards event held at the Triennale Museum, Milan.

An esteemed judging panel including Frida Giannini, Franca Sozzani, Tim Blanks, Colette Garnsey, Angelica Cheung, Alexa Chung and representatives from the global IWP retail partners, selected Rahul Mishra – representing India and the Middle East - as the winner.

"For me, Rahul has won because of his ability to apply his knowledge of embroideries through wool, one of the most versatile fibres with originality in an unexpected way" explained Frida Giannini, Gucci's Creative Director soon after the announcement.

After a global search, reaching across 20 countries and involving over 48 designers, five talents reached the final round: ffiXXed, for Asia; Christopher Esber, representing Australia; Sibling, for Europe, Rahul Mishra, India and Middle East; and Altuzarra, for the USA.

Alongside prestigious recognition, the winner receives a financial contribution of AU$100,000 and the opportunity to be stocked in the most important retailers around the globe including Harvey Nichols, Saks Fifth Avenue, 10 Corso Como, Joyce, David Jones, Colette and mytheresa.com.

"His interpretation was so delicate and beautiful", said Alexa Chung. "I was really moved by Rahul's story. I believe he is well deserving of this award."

Rahul Mishra's Merino wool collection, that won the prestigious award, was based on craftsmanship and his incredible knowledge of techniques and embroidery.

The designer declared: "I feel like this is a dream and this is giving me new hopes for my future career. This award will change the perception of global fashion in regards to Indian fashion and this is all because of wool - an amazing fibre, the fibre of possibilities."

The collection will be available in partner retailers globally from August 2014. The nominees for the 2014/15 IWP regional competition will be announced in April 2014.

The Woolmark Company would like to recognise the valuable contribution from the following partners: Final judging panel: Angelica Cheung, Editor-at-Large Vogue China Colette Garnsey, Director Australian Wool Innovation (managing company for The Woolmark Company) Franca Sozzani, Editor-in-Chief of Vogue Italia, L'Uomo Vogue Italia and Vogue.it. Editorial Director of Cond? Nast Italia. "Goodwill Ambassador for Fashion 4 Development" for the UN Frida Giannini, Creative Director, Gucci Tim Blanks, Editor-at-Large Style.com Alexa Chung, Model, fashion commentator Colin McDowell, Mentor to the designers

IWP retail partners: 10 Corso Como, Italy Colette, France David Jones, Australia Harvey Nichols, UK JOYCE, China MyTheresa.com Saks, USA

Nominating bodies British Fashion Council China Fashion Association Council of Fashion Designers of America Czech Grand Design Fashion Design Council of India Flanders Fashion Institute Hong Kong Fashion Designers Association IMG Fashion Australia Japan Fashion Week Organization Korea Fashion Association The Lock Group Mercedes Benz Fashion Week Madrid MTD, Turkey NOT JUST A LABEL Pakistan Fashion Design Council Premsela, The Netherlands Institute for Design and Fashion Stark Foundation UAE: Dubai Fashion Week Vogue Australia Vogue China Vogue France Vogue Italia

If you are a menswear fashion designer and you are interested in the use of wool in men's suits, you can take part in the International fashion design contest Men's Style, organized by the Men's fashion cluster. It is a very interesting project that will run through the whole 2014 and will provide business opportunities for fashion designers and made-to-measure agents.

Photo: ALexa Chung and Rahul Mishra


Hits: 10873 | Leave a comment