Tag: 2010/2011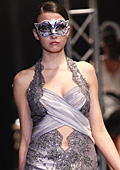 Collections
We present you the collection of fashion house Odeta for Fall/Winter 2010/2011. Designers of the models are Valeria and Donka Lazarchevi.

The dresses are mostly in glamorous combination of black and white, decorated with many embroidery, lace and stones. The line is elegant, offering models with "airy" or tight silhouette. Lengths are different, but the high slits and open backs make each model from the collection sexy.
Collections
On September 17 in Europe Hall of the city theatre in Rousse, fashion house Modis presented its collection for Fall/Winter 2010/2011 with designers Valery Gidenov and Drina Pashova. The fashion show was stylish and professional, without a host pouring unnecessary superlatives, and the guests convinced themselves of the quality and originality of the clothes.

Over a hundred pieces of clothing were presented at the fashion show. The clothes were only in black, white, gray and "ashes of roses" colors and the variety of patterns and fabrics impressed the audience, that showed its approval with applause.