Tag: Astella Atelier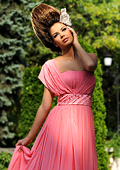 Collections
The new collection of Astella Atelier reflects the designer's desire to present the latest trends from the past year and the most interesting upcoming season.

In the spirit of global fashion trends the lux in collection is muted and delicate. Exclusive materials and details are "hidden" in fine and elegant French chiffon.

Dresses in the new season interpret the feeling of ease and style in formal dress in a new and exciting way. They does not fall heavily to the ground, and delicately and gently hug the figure.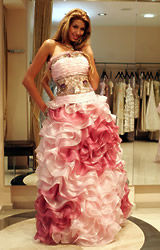 Models and photomodels

Dressed by Astella Atelier, Galena Dimova - Miss Bulgaria-World 2006 is getting ready to conquer the competition "Miss World 2006" in Los Angelis. Author of the unique dress is the designer Alya Milusheva.

After analysing Galena's skin, hair and eyes the designer chose a toilet designed in peach and turquoise colours with a slight golden spice. She also considered the competition requirements, which don't tolerate quite uncovered dresses and a lining of natural skin colour should be used under any transparent materials. The dress outlines the body shape and the fabric falls down airily with skin caressing.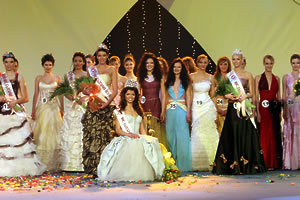 Competitions & awards
The competition "Miss Bulgaria 2006" chose for its designer Alya Milusheva-Dimitrova and Astella Atelier. The candidates for the prestigeous title were dressed in 36 unique toilets designed by Alya. The famous designer was also in the jury of the competition.

For the first time in the history of the competition for queen of beauty it took place in Plovdiv, not in the capital Sofia.