Tag: Bulgarian brand
Fashion shows
The Bulgarian brand Avin boutique presented its first collection in France, where the collection was sold out for two days. This is a huge success for the Bulgarian fashion brand.

The collection is named "A day with a Star", the model of the collection is Aglaia Vassileva. A representative of Avin boutique said that for them this is a tremendous recognition by French women and they already prepare a new collection, even better than the last one.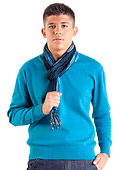 Collections
Take a look at collection Fall/Winter 2012-2013 of the Bulgarian brand for men's fashion Styler.

A big variety of machine knitted sweaters, long sleeve blouses, shirts, jeans garments, trousers, jackets, suits as well as accessories - scarves, hats and gloves offersStyler for the Autumn-Winter season. The main colours used are blue, lilac and red. The models are in sport-elegant style.