Tag: Crocs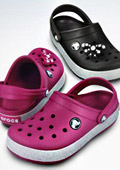 Accessories
Crocs are one of the ugliest shoes in the world and yet they get a comfortably cute makeover, providing an updated style and comfort that they offer with their new Crocs Spring 2011 line.

The new Crocs Spring 2011 line offers many different styles, such as a flat shoe made with a jelly-like material and breathable holes, or a strappy sandal, made of the same jelly-like material but with the classic foam sole.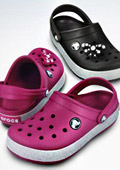 Curious
It all began in July 2002 when the plan to flood the world with ugly shoes come in the heads of three friends from Boulder, Colorado.

Born in 2002, the shoe was initially intended as footwear for boating, with its nonslip tread and waterproof tendencies. The first model produced by Crocs, the Crocs Beach, was unveiled in 2002 at the Ft. Lauderdale Boat Show, and sold out the 200 pairs produced at that time.