Tag: MadRubb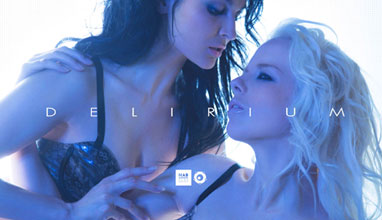 Fashion collections
From the latin "delirium": Mental confusion characterized by hallucinations, absurd thoughts repetition and incoherence.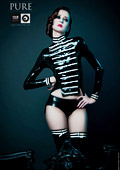 Collections
MADRUBB presents its PURE collection, a proposal based on the essence of feelings, dedicated to an extremely strong and delicate woman at the same time.
PURE is inspired in every detail of the female personality, in the daily moments in different personal states and emotions: pleasure, desire, despair, excitement, sensuality... without falling into the explicit, vulgar or in the daily routine.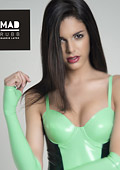 Collections
MadRubb, the Spanish leader latex brand, has just launched its Spring/Summer 2013 collection 'Lxve to Lxve' - Love to live or live to love? The new MadRubb (Madrid Latex) collection includes pieces full of life and freshness and surprises with an unique innovation: embroidery in latex, an exclusive technique that raises the garments to the 'Latex Haute Couture' category. In a completely handcraft work, MadRubb embroiders the crystal and the paillettes in dresses, gloves, lingerie… getting an spectacularly glamorous and elegantly sexy effect.