Tag: Maria Barros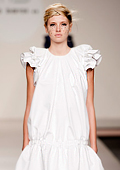 Collections
Maria Barros presented her collection Spring-Summer 2010 at Cibeles Madrid Fashion Week. The models are in blue, orange and white.
Frills, crimps, large collars are characteristic for the blouses and some of the dresses.

With strength, elegance, great sense of design and a clear international vision, Maria Barros firm was founded in 2003. Locating the main head office in La Coruña the firm started off activities by showing the collections display on the Barcelonan Gaudí Catwalk for four consecutive seasons.