Tag: Sara Pen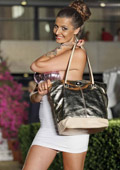 Collections
Exclusively for Bulgaria the newest shoes and bags collection for Summer 2013 by Sara Pen was presented during the Festival of Fashion and Beauty in Varna, Bulgaria.
The event was a real provocation for fashion and beauty lovers, with the attractive styling of the models and the unique accessories of Sara Pen.
Collections
At a fashion show in Varna, Bulgaria were presented shoes and bags with the brand Sara Pen. The unique collection, offering also extravagant boots can be found in the representative shop of Sara Pen in GRAND MALL Varna.

The fashion show Festival of fashion and beauty 2011 took place in Varna in June and presented also other world fashion brands like Puma, Roberta Biagi, Mariagrazia Pi, Imperial, Northland, Nysens, Evona, Cango Rinaldi, Gerard Darel, Joseph, Vivienne Westwood and Moschino. Their collections also presented several Bulgarian designers and fashion houses - Rositsa couture, Daniel fashion, Veteida and Diana Alexandrova.