Tag: dark green
ABC of the men's suit
The term 'blazer' originated in 1825 and then meant only 'the red flannel boating jacket worn by the Lady Margaret, St. John's College, Cambridge, Boat Club'.
Nowadays, a blazer is a type of jacket resembling a suit coat cut more casually, typically with metal buttons. It is intended as an outdoor jacket and always solid-colored - usually blue, black, camel or dark green. It is single- or double-breasted and made of sturdy material.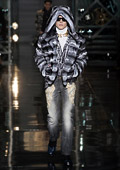 Collections
In Versace menswear collection for Fall-Winter 2014/2015 the biker is the new cowboy all in leather and denim.
Versace Man is young, free, liberated, provocative, fearless.
Collection includes strong shouldered single-breasted suits, new Versace print silk shirts, fine-gauge rollneck, golden necklaces with big pendants, chains, studs, Medusa heads, sexy undies paired with leather chaps.