Tag: floral patterns
Collections
Tony Lance underwear brought the first evening of the fashion show Fashion evenings 2010 to a close with impressive combination of lingerie and retro accessories provided by "Party house". The models presented mysterious masks, gorgeous hats, collars with ostrich feathers, royal crowns, cloaks and wigs.

Tony Lance presented lingerie from satin and chiffon with floral motifs, embroidery, curls, pleats and lace, in fashion this season.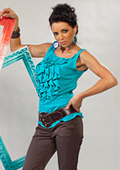 Fashion trends
This year the designers once again showed plenty of models, patterns and colors.

The summer of 2010 will be colorful and covered with great mood. Floral and animal motifs, polka dots, prints and sheer fabrics, combined with enchanting colors will detonate the Spring and Summer this year.

Disco craze this season will not depart from the trends. Pants, skirts, jackets, T-shirts, shoes and bags with prints will be total hit.