Tag: glow
Fashion collections
Luxury Italian brand Cosabella presented her new line of glow-in-the-dark lingerie.
Made of the brand's signature super-lacy fabrics the pieces' prices are between $47.50 and $105 and will glow brightly once the lights go down in neon green after only 3 minutes under the sun.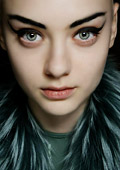 Fashion trends
Metallic reflection, bright colors or nothing but a radiant skin - the choice is yours and each of these looks will be trendy for 2014/2015 cold season.
Accessories
In its summer collection many cosmetic brands rely on lip gloss more than typical lipsticks.

This is not surprising because the gloss is more suitable for daytime makeup in the summer, while the lipstick is perfect for evening gatherings. In its Summer 2011 collection Burberry presented a gloss, which would impress every woman with its texture and color range. The maker-up give prominence to three shades - № 8 Cameo (soft coral), № 4 Blush (red-purple), № 6 Brick Red (wine).