Tag: hair comb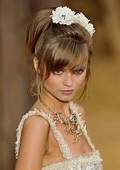 Fashion trends
In previous articles, we have looked through the different fashion trends in clothing, shoes, hairstyles and manicure for spring-summer 2010. It is time to pay attention to the trends in hair accessories for the upcoming summer.

This season the hair accessories will not only complete the hairstyle, but will be definitely eye catching. They will be one perfect accent to your style and your dress.

Hairstyles have always been an important part of fashion and being unique with your hairstyle can only benefit your beauty and style.
Hair
Whether your hair is short, long, wavy, curly or straight- there are ways it can look good even in hot weather. What you should know is that there are different ways for different types and lengths of hair.

How can your hair-do look fantastic in the summer? We offer you a few interesting stylist suggestions which will give you ideas how to keep your hair pretty regardless of whether it is short or long, thin or thick, wavy or straight.