Tag: healthy hair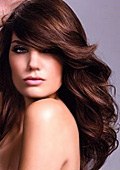 Hair
Hairs are one of the most important assets of a woman.
Every one wants his hair to be healthy, lustrous and shining. This can be achieved by a healthy hair care routine.

There's no scientifically proven way to make your hair grow faster. But there are several things you can do to let your hair healthy and to grow up.

Remember- hairs are a sennitive part of your body that need special care. You have to be very nice to your hair.

What you can do to help to your hair...