Tag: kitsch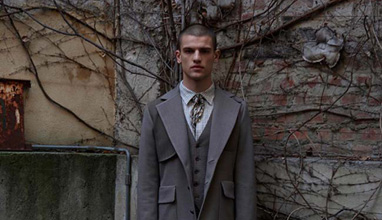 Menswear collections
Marras imagined a British-Sardinian gentleman, fond of hunting with hounds in the wild countryside, but driven by nostalgia and a sense of home. "His style is a mash-up of memories." A feel of rustic elegance was threaded through the collection, which was focused on outerwear. Peacoats and parkas were patchworked from an array of tweeds, jacquards, corduroy velvets, tartans, and felted wools. Worn inside-out exposing soigne linings, they had oversize, protective proportions; and though they looked sporty and functional, they conveyed the typical Marras flair for eccentric practicality. The British-Sardinian nobleman in question was obviously fond of a dapper touch of tailoring. Indulging in thick, knitted robe de chambre and parading sumptuous brocade tuxedo jackets.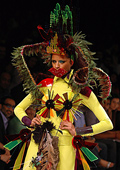 Curious
Increasingly more often at the catwalks we see bizarre garments, accessories and impressive scenery, which are turning the fashion défilés into a real show.

Just recently Karl Lagerfeld presented the Chanel's Fall-Winter 2010/2011 collection alongside a real iceberg and the models marched around it.

We offer you other unusual footage of fashion shows from this season.