Tag: limited editions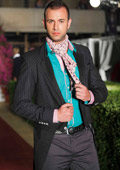 Collections
Bulgarian fashion house 'Banderol' has been creating boutique men's and women's clothing for more than 10 years.
Garments are made in small, limited editions, because the main aim of the brand is to offer a variety of models to make 'Banderol' competitive and preferred.
To be a face of their menswear collection from 'Banderol' choose Bulgarian actor and singer Stelian Dimitrov - FAKED STARS.