Tag: lovable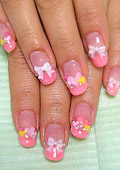 Manicure
The Japanese culture is known for its uniqueness. There are some elements of the Japanese culture that are hard for others to absorb. One of these elements is the kawaii phenomenon.

Since the 1970s, cuteness, in Japanese kawaii (literally, "loveable" or "adorable") has become a prominent aspect of Japanese popular culture, entertainment, clothing, food, toys, nail art, personal appearance, behavior, and mannerisms.

Japanese nail art is all about kawaii. The girlie cuteness of it is neither tacky or vampy – the nails are always sweet, cute and childish.