Tag: pastel colors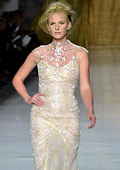 Collections
Catalan fashion giant Pronovias presented its latest 2014 collection 'First Love' on a spectacular show in Barcelona. More than 1 800 VIP guests and brand's customers admired the latest trends, united in three trademarks: Pronovias, Atelier Pronovias and Elie by Elie Saab. On a catwalk with a huge golden tree on it, beautiful Irina Shayk, Ana Veliastina, Valentina Zelyaeva, Janeta Stamp and Kelly Gail presented gorgeous dresses with gold highlights.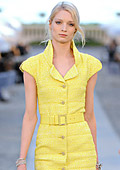 World fashion
A couple of days ago, Chanel presented its Cruise collection, Resort 2012, at the Hotel du Cap in Antibes on the French Riviera and was nothing less than we would have expected from Karl Lagerfeld.

The designer booked possibly the most expensive hotel in the world for however many days it took to get the show on the runway and as we expected - it was glamorous.