Tag: precious stones
Accessories
Cartier continues to expand its presence in China with the opening of yet another flagship on Friday in Hong Kong.

The new 900 square metre flagship store, is housed inside the Prince's Building - an upscale shopping center. For the opening the new Panther de Cartier collection will be on preview in the store for the first time, through its official release isn't slated until next year.

Underwear and Swimwear
Brazilian supermodel Adriana Lima presented Victoria's Secret $2 million Bombshell Fantasy Bra on Wednesday in New York.

The Fantasy Bra, designed by Damiani, is inspired by celestial prints and opulent constellation patterns. It consists of more than 3,000 brilliant cut white diamonds (60 carats in total), light blue sapphires, and oval-shaped topazes (another 82 carats), which are all set in 18 karat white gold.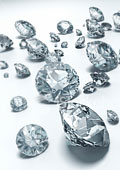 Curious
In this article you will find information about the most important aspects of diamonds: carat, weight, color and clarity. If you are looking for brief information to help you decide which is the best diamond for you or a loved one, you've come to the right place.

Diamond (from Greek – adamas - "unbreakable") is a crystallized form of carbon with superlative qualities. It has the highest hardness and thermal conductivity of any bulk material.