Tag: purity
Accessories
Once, more then 50 years ago, Manuel Carrera, founder of Carrera y Carrera, met beautiful girl, Marina. He watched, entranced, unaware that Marina had also noticed him. Sparks flew just looking at each other. And though he wished with all his might to approach her and speak with her, something stopped him.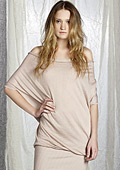 Collections
Sisley's new collection for spring/summer aims straight for the heart.

It plays on sensations and emotions; it alludes to places, situations and times, but without labouring the point.

It seems to suggest that an outfit is the visible side of what we are, of what we want to show of ourselves. A calling card we choose each day that says exactly who we are.