Tag: shawls
Events
On December 17 at the Institute of Contemporary Art - Sofia was opened "The hanging show" - the new edition of the popular holiday exhibitions with circulated art objects for 2021!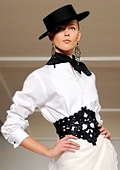 World fashion
Ralph Lauren Spring 2013 collection is elegant and stylish with long dresses and exquisite jackets with embroideries and carved leather elements. The total look of the models however is completed by elements of foreign cultures - flat-topped Spanish hats, striped Mexican serapes, silk shawls reminding of former Russian pioneers. Accessories are widely used in the collection. The highlights are long earrings, large belts, hats and berets, shawls. Fringes and ruffles and long necklines are also among the fashion trends offered for the Spring 2013 season.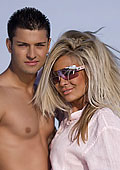 Collections
Simona Parvanova and the model Trayan Lichev shot a photosession, presenting the new collection Summer 2010 of "Vilebrequin".

The sexy TV presenter and Mr. Manhunt 2008 posed to the photographer Jozef Zidarov and changed 7 styles in the spirit of the French riviera.

This summer the line of fabrics used in the collection have various prints such as boats, scenery, flowers, fruits and other symbols, characteristic for Saint Tropez. The swimsuits are made from waterproof and quick drying fabrics, the shorts have two faces and you can buy a complete set of swimsuits, shorts, t-shirts, shawls and towels.