Tag: suggestions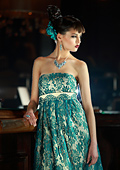 Fashion trends
Fashion critics announced the turquoise is the color of 2010. According to them, that color will not have a competitor, because everyone will need to escape from the tense moments and dip into the waves of the turquoise. The color is the boundary between blue and green, which makes it both attractive and serene.

In the hottest color of the season will be as jewelry and accessories, and clothing and footwear.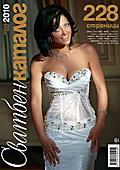 Fashion magazines and books
Emanuela is on the cover of the largest magazine for bridal fashion and wedding services in Bulgaria – Bridal Catalogue.

The new issue contains 228 full color pages with detailed presentation of wedding and official dresses for the spring season and also – fashion suggestions for the prom. Spring is the season that provides all brides with an excellent opportunity to experiment with the colors of the dress and its accessories.