Tag: swimming suit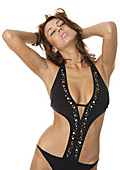 Fashion collections
Ladies swimming suits made interesting transformations: from swim dresses, whole suit till model of two bikini parts. Now things are turning and instead of showing as much as possible naked skin is becoming enigmatic "hiding".

On the fashion shows in Madrid, Milan and Paris rise up whole swimming suit. Versace, Chanel, Hermes, Stella McCartney sell them in fashion boutiques and stores. Nancy Wisebach, who is longer occupied with fashion, perceived that bikini set.
Underwear and Swimwear
63 years ago on 5th July 1946 designer Louis Reard manufactures the first pair of bikini- in a two piece swimsuit, revealing the breasts for the joy of all men.

Although a scandal followed immediately after their unveiling this wasn't the first time a woman appears in such skimpy clothes in the public's view.

In 2nd century BC women, inhabiting the land where Romania currently is wore a primitive form of bra and panties which can't be seen anywhere on the beaches in present day. Nowadays the strict code of swim wear (which included covering from head to toe) was relieved of restrictions after the 1900s.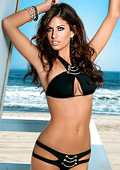 Fashion trends
If you have a well-built and beautiful body, any kind of a swimming suit would fit you, but imagine how much attention you will get, if you show up on the beach in an attractive model of the fashion designers' latest collections. Swimming suits with one shoulder-strap are a hit this year, as well as full-body swimming suits with lots of complicated cuts and various shapes.