Tag: thigh high boots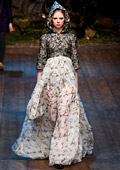 Collections
The world famous fashion duo Domenico Dolce and Stefano Gabbana presented brand's Fall-Winter 2014/2015 womenswear collection yesterday (February 23, 2014) during the Milan Fashion Week.
Key words were:
Hoods, Fairies, Flowers, Helms, Keys, Fireflies, Enchantments, Elves, Animals, Dreams, Secret garden, Romantic, Tchaikovsky.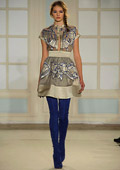 Collections
British fashion label Temperley London presented its Fall-Winter 2014/2015 collection yesterday (February 16, 2014) during the London Fashion Week.
It's a monumental collection that features every texture, shape, length, cut and layer that you could imagine. There is truly something for everyone.