Tag: tunic top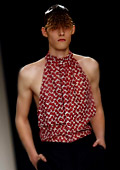 Collections
Jonathan Anderson creates totally different collections for J.W. Anderson fashion house every season. 'It's very difficult to find new all the time. We have to take a snippet of the dialogue onto the next one, so it's a running kind of story', the designer said.
He presented his collection for the hot season of 2014 in Britain during London Fashion Week.
The key ingredients of his Spring-Summer 2014 menswear collection were an oversize trouser with a kind of tunic top, often in silk-lined sponge.