Mercedes-Benz Fashion Week Russia: new season
Moscow, annually in the list of planet's most fashion oriented cities, is hosting Mercedes-Benz Fashion Week Russia on 11-16 March 2016. Come and see collections from over 50 designers from Russia, Georgia, Ukraine and other countries.
SLAVA ZAITSEV, Alena Akhmadullina, VIVA VOX, YASYA MINOCHKINA (Ukraine), Yulia Nikolaeva, Dasha Gauser, Julia Dalakian, PIROSMANI BY JENYA MALYGINA, IGOR GULYAEV, Goga Nikabadze (Georgia), DIMANEU, Saint-Tokyo – these and many other designers already well recognized in the fashion world will showcase their collections at the catwalks of Mercedes-Benz Fashion Week Russia. Among the newcomers of this season are: VIPERS, KSENIASERAYA, SORRY, I'M NOT. Some participants will present their premier collections in frames of the numerous joint shows.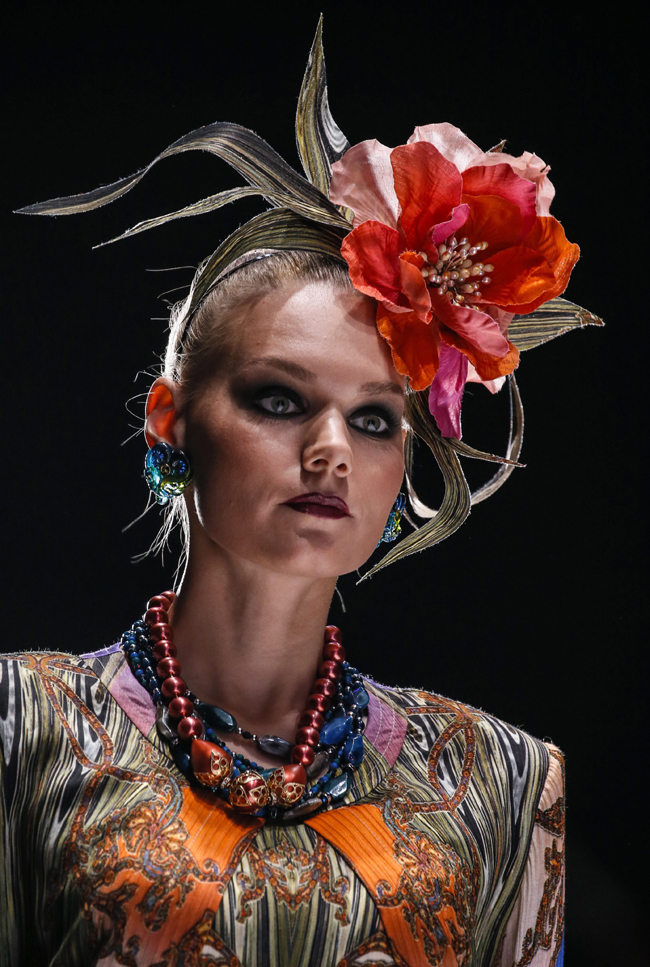 A creation by Russian designer Slava Zaitsev during the Mercedes-Benz Fashion Week Russia in Moscow, Russia, 21 October 2015/ Photo: EPA
Major business event of the Fashion Week is the international conference Fashion Futurum (14-15 March) organized by the Russian Fashion Council in scopes of MBFW Russia. Thirty international fashion industry leaders will gather at the conference to discuss the current trends and changes in fashion business. Round tables, seminars and speeches from international fashion insiders will be the so-called consulting sessions for Russian designers, entrepreneurs and executives responsible for making strategic decisions.
Among the speakers are the world's leading experts: Mario Boselli, Honorary President of Cam-era Nazionale Della Moda Italiana; Ignacio Sierra, President of European Branded Clothing Alliance, Director General of Grupo Cortefiel; Carlo Capasa, President of Camera Nazionale Della Moda Italiana; Danilo Venturi, Dean, Polimoda; Sara Maino, Senior Fashion editor at Vogue Italia and Head of Vogue Talents; Stefan Siegel, Founder and СЕО of Not Just A Label platform; Kaat Debo, Curator, Director of Mode Museum Antwerpen (MOMU); Carl Waldekranz, СЕО Tictail. In the new season of Mercedes-Benz Fashion Week Russia all guests will have the opportunity to experience Virtual Reality - we continue our experiments in Virtual Reality format.
Anyone will be able to feel the atmosphere of the largest Fashion Week in Eastern Europe, walk the runway as a model and see the backstage of the key fashion shows. With the help of Fashion VR (Virtual Reality device), it will take you only few seconds to turn the smartphone into an appropriate Virtual Reality headset and watch 3D films, play the games and travel the worlds of virtual reality. We are not tired of mentioning that Mirror to the Soul is the virtual film about Mercedes-Benz Fashion Week Russia awarded in the category the Best VR Travel Film or Experience at Virtual Reality Festival in frames of CES (Consumer Electronics Show - the largest international annual fair of consumer electron-ics).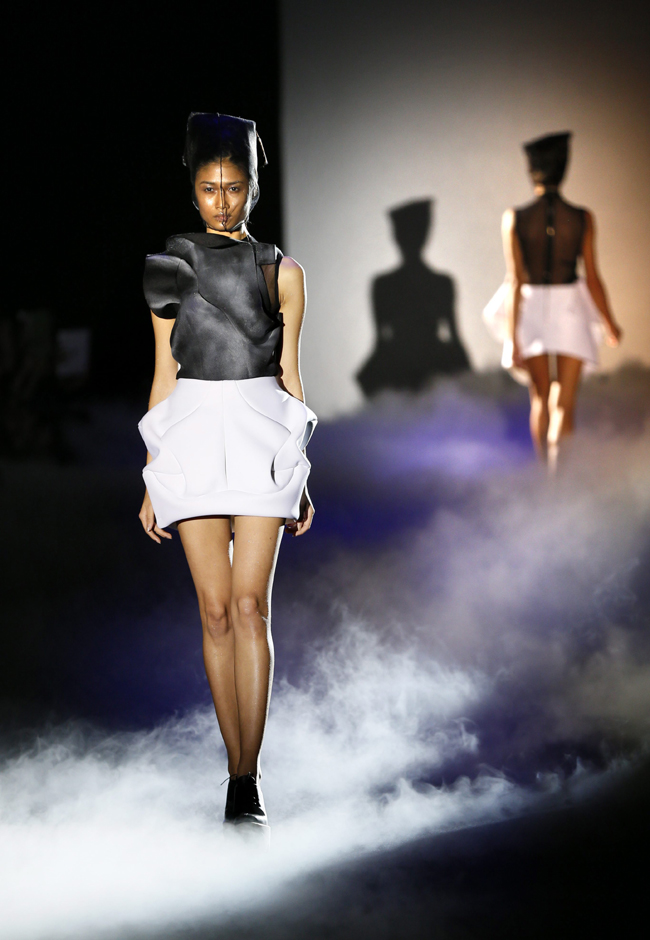 A creation by Russian designer Jenya Malygina for her label Pirosmani during the Spring/Summer 2014 Mercedes-Benz Fashion Week Russia/ Photo: EPA
Mercedes-Benz Fashion Week Russia will close on 16 March in Kuntsevo Plaza complex (19 Yartsevskaya Street) by Igor Chapurin fashion show. Pre-collection of Fall-Winter Season 16/17 is built on the feelings and emotions associated with 1990s. Those times can be described as mixture of different styles, when grunge and punk aesthetics got along with minimalism and the cult of the human body (designers took a close interest in the human body back then).
Igor Chapurin, in his characteristic delicate manner, interprets the trends of the end of the previous century in the spirit of contemporary fashion.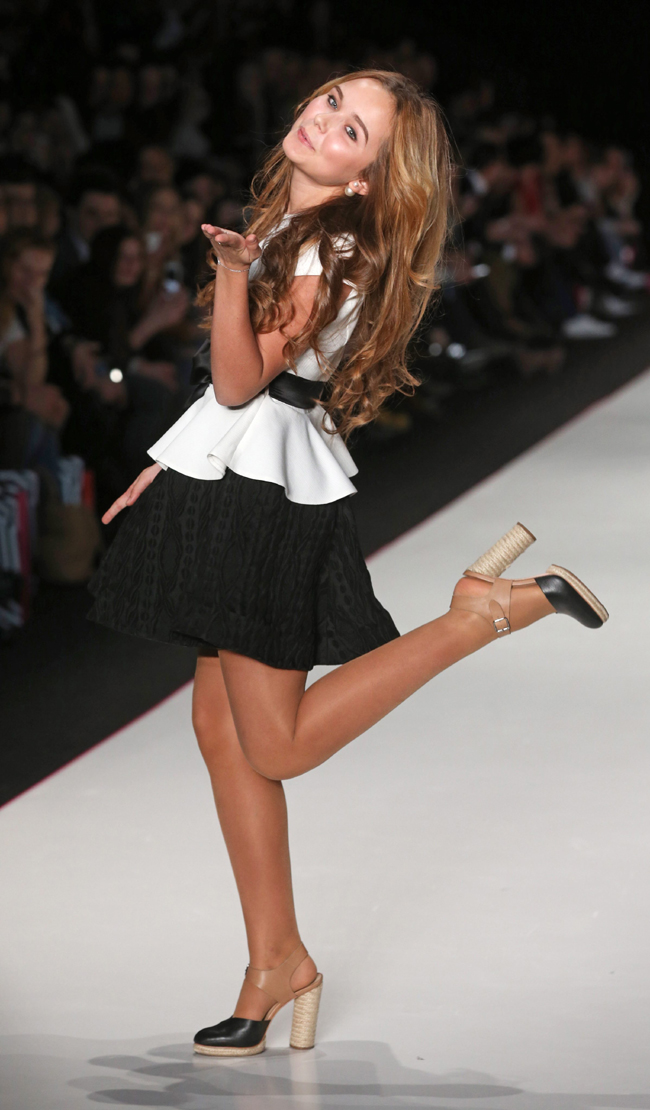 A creation by Russian designer Igor Chapurin for Barbie collection during Mercedes-Benz Fashion Week Russia, in Moscow, Russia, 31 March 2014/ Photo: EPA

Partners of MBFW Russia: L'Oréal Professionnel (Official Stylist), Mary Kay (Official Make-Up Art-ist), DHL (Official Logistics Partner), The Metropol (Official Hotel), El Corte Inglés (Official Partner), Kuntsevo Plaza (Official Partner).

Information: image.net


Hits: 5586 | Leave a comment