What's Hot and In Fashion This Summer in Monaco
Monaco is without question where the rich and famous come to play. If it's a hit on the French Riviera, you can pretty much guarantee it'll be a hot look wherever. Our finest fashionistas have studied the catwalks for ideas that will turn heads from Paris to Tokyo, and from Las Vegas (usually more casual) to Milan. If you're planning to visit any of these playgrounds of the prosperous this Summer season, it's vital that you're on point with your wardrobe. Fortunately, we're here to give you a few handy titbits.
If you've been eying up the catwalks for inspiration already, you won't have been able to help but notice a certain blast from the past is all the rage. This season is about the 1980s. That means it's all tight waists, long legs, and solid shoulders. If you want to guarantee the turning of heads, it's going to mean some serious about power dressing. Don't worry though, you won't have to don the full shoulder pad to stay chic!
General Ideas
Before we get into a few specifics, we'll consider a some general ideas that will easily turn meek into fleek. Monaco has a famously gorgeous climate in the summer months. This means a day at the beach might well turn into an evening before you know it. Don't worry though because trench coats are most certainly a strong look this season. They'll appear just as hot over a bikini as they will be striding confidently into the boardroom over a full pant suit.
Another guaranteed winner is the high waisted jeans and ankle boots combination. Of course, you can always mix it up with a pencil skirt in this seasons colours (more on these in a moment). If you're dressing up, you can really push it with '80s chic being all the rage. However, if it's a more formal occasion, a smart trouser suit will certainly be your friend in summer 2018.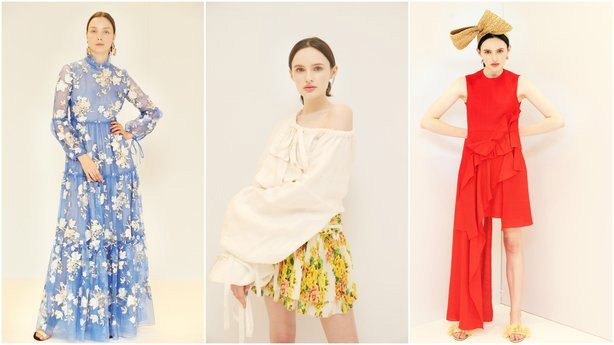 Colours
As we all know, colours come in and out of fashion just as often as styles. This season it's all about bright ones. Forget your navy blue, black, scarlet, or chocolate tones. We're talking summertime here! Most of the hottest catwalks featured looks in pastel colours for summer. Think: lilac, baby blue, lemon, pastel pink. Basically, you can't go wrong with soft, delicate tones. Generally speaking, ice cream hues are going to look amazing together. The best part is, these shades won't get uncomfortable in the beautiful Southern French sun shine either – it's a win win!

Patterning
If block colour isn't your thing and you simply must break it up, you can't go far wrong with checks for summer 2018. Victoria Beckham showed off some stunning examples of heritage checks at the international fashion weeks and, of course, Burberry did too.

Another strong look when it comes to patterning this year is sequins. Whether its bikinis, bags, loose fitting shirts (shoulder pads optional), you simply need sequins on everything! They'll really turn heads shimmering in the Monaco summer sun too! Take a look at designs from Tom Ford and Marc Jacobs for inspiration – oh and Gucci, Dior, and Chanel (but they go without saying!)

Speaking of sequins, one particularly strong look taken from the catwalk efforts of the world's top designers was showcased out of the Victoria Beckham summer 2018 collection. Inspired by her daughter Harper, her Cinderella-inspired, Mary Chain shoes are idea for both casual and evening wear – you shall indeed go to the ball!

Textures
Fringing is certainly big this season. We've already spotted Rhianna in a pair of Saint Laurent boots. What were they adorned with? Well, fringing of course! Some well-placed, floaty fringing is going to set any outfit off, particularly when caught by a gentle sea breeze strolling down Jetee Lucciana. Designers like Bottega Veneta and Loewe had their fringing game on point at all the major fashion week's this season – if in doubt, shamelessly imitate!

Transparency is also in this summer, which is great to show off both your exquisite taste in fashion, as well as your sun-kissed bod. You can be the judge how far you want to take it. Some sheer outfits leave very little to the imagination, whereas others are much subtler. Either way, a little skin on show makes us all feel sexy at either the beach or the cocktail bar.

Remember that the hot decade this year is the 1980s before we reveal our next fashion pick! Ruffles were all over the major catwalks this year. They're perfect for adding a feminine air to almost any outfit. If you need help with inspiration, check out Erdem, Alexander McQueen, and of course, Givenchy.

Multiple Bags
Who said style had to come before substance! This year, there's absolutely nothing wrong with stepping out with both a tote bag and a hand bag. If you want to really go for the fully accessorised look, you could even throw in a bum bag too. Don't worry, you can always refer to it as a belt bag if the phrase bum bag is much too uncouth. For help from the catwalk here, check out the wonderful ideas by Gucci or simply grab one that's been sequined up and accessorise in style!


Hits: 9868 | Leave a comment