UNITED COLORS OF BENETTON Men's Collection For Fall/Winter 2009/2010
THE ARCHITECT – A style somewhere between classic and casual to reflect his attention to details and quality, not forgetting functionality and comfort. He's ready to face the day's events, dressed in brown shades ranging from chocolate to hazelnut and beige. Grey shades are combined with azure, dark blue and plum.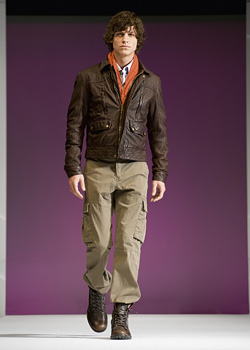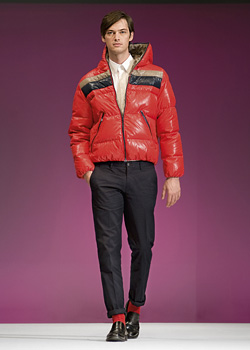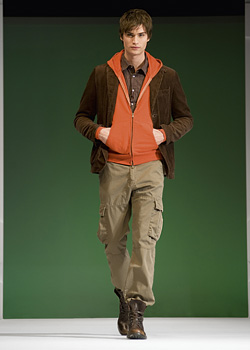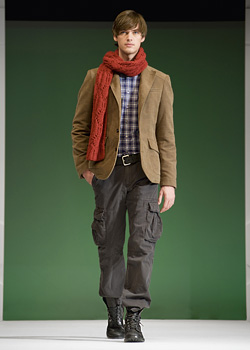 Fabrics include wool in the form of medium-weight cloth for long and three-quarter-length jackets, lightweight for suits or trousers in the English style, wide-ribbed corduroy especially for jackets, yarn-dyed cotton for all kinds of striped shirts or others in micro checks.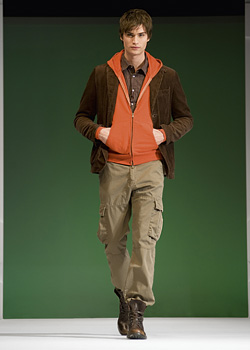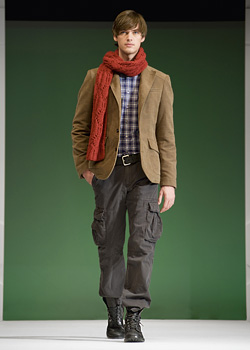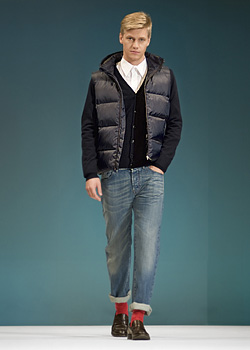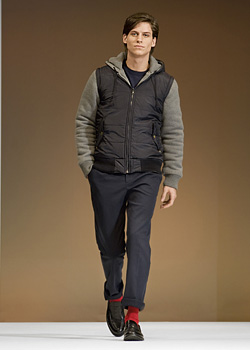 Gabardine and cotton tricotine are stretchy to make trousers more comfortable, as is moleskin. Cotton jersey is teaselled or treated to give it a warm hand, while nylon is used for jersey-lined trench coats and long jackets. Sweaters are made of wool, of course, with a new pattern of multicolour, inlaid diamonds. Our architect prefers to wear soft "tops" whose fabrics cling softly to the body. "Bottoms" are closer-fitting, though stretch materials ensure total freedom of movement.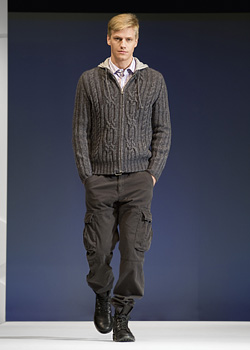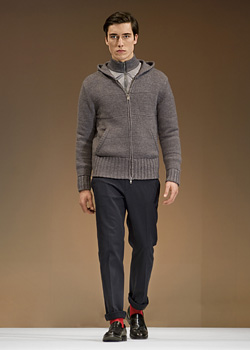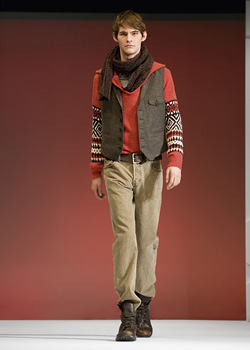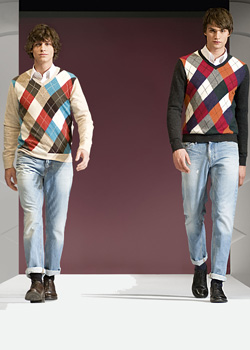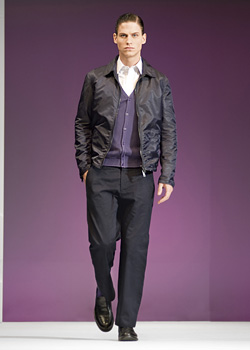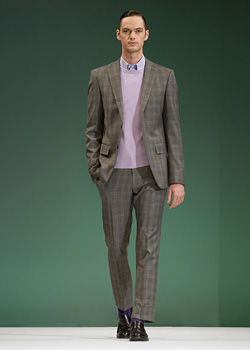 THE PHOTO REPORTER – A sporty air for a very active man used to playing a leading role in life. A man who likes to wear army green, khaki and mottled grey but who doesn't say no to the more unusual brick-red, turquoise or natural white.
The fabric "fleet" is equally natural. Cotton appears in various forms. From corduroy destructured jackets to gabardine parkas or cargo pants or chinos, fulled, stretch satin cotton for casual trousers, garment-treated for textured-stripe shirts, jersey and interlock for hooded sweatshirts.
To complete the picture, faux leather for jackets rich in zips and strategic pockets, while windproof nylon is used for pastel padded jackets. Cable and rib sweaters of medium-count wool.
The look is very soft, ideal for an activity that keeps you in sync with events and your surroundings. Each article features practical details: strategically-placed pockets, zips and drawcords for extra safety, hoods to keep the weather off.

THE WRITER – This is a man who appreciates the simplicity of life. He needs only a few things in order to live well, but they have to be distinctive and, above all, practical.
Colours, too, are distinctive, such as cornflower blue, red, orange, beige, black and mottled grey.
The choice of fabrics reflects the character: nylon, wool and cotton in that order of importance. The first appears in the brilliant colours of the padded jackets. The second is knitted into warm, thick, snug sweaters.
The third is seen in the form of jersey for sweatshirts with distinctive details. Five-pocket denim is the common denominator. The look is undoubtedly casual but never banal or boring. The rounded volumes of jackets are tempered by the clean lines of trousers and tops.


Photos: F. Morandin

Hits: 39208 | Leave a comment