SISLEY Women`s Collection for Spring/Summer 2011
NEW BUCOLIC
Mixing seems easy, but the true expert catches your eye with the sensitivity she displays when bringing together, very naturally, denim and eveningwear, or military styles with something straight from Woodstock. The result is a well-chosen mix 'n' match of colours (old rose and battledress green or magenta and teal); fabrics (organic cotton jersey and extreme-washed denim); shapes (the softness of knitted viscose and the angularity of denim).
POWDER LADY
When we think of a self-assured, sophisticated lady, the first image that comes to mind is Marlene Dietrich, an icon of elegant, unconventional sensuality. A range of pale, dusty colours reveal a world of soft volumes and fluid fabrics. Draping and pleating are everywhere on cotton blouses and Tencel dresses. Shorts and skirts display bare legs, while Marlene, with her languid gaze, is seen on jersey T-shirts.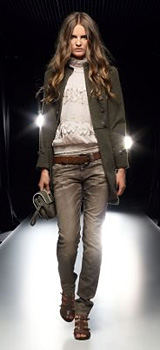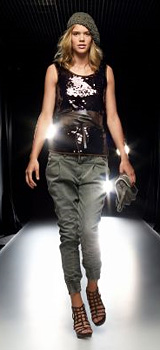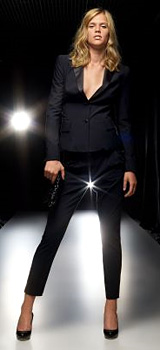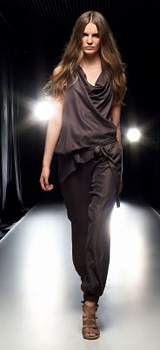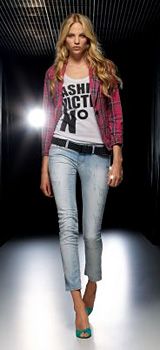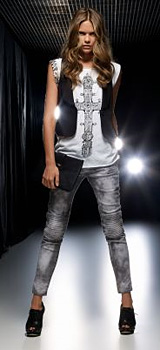 SUNSET PARTY & NIGHT DIVA
Cocktail time and the evening are two social occasions that require special attention. For the cocktail hour, choose a colour palette that ranges from cool white to midnight blue with flashes of magenta and deep red. Stretch denim seems to be the best fabric for a close-fitting look. The evening is an explosion of shine and sheerness: soft, flowing fabrics with artful touches of lace. Dresses with stylised graphic prints do not look out of place next to a timeless, slim-fit dinner suit.
DARK LADY
Dark lady is a term that evokes the atmosphere of the 1940s' film noirs in which the leading lady shimmered with an allure that was both exotic and mysterious. This mood is revived in a capsule collection where lace and sheerness dominate the scene with a "heavy" supporting cast of studs, leather and distressed denim. The palette is small but specific: black, midnight blue, grey and faded mauve. The silhouette is generally elongated, with the exception of the trapezium shapes of the dresses.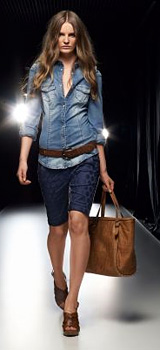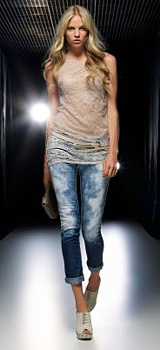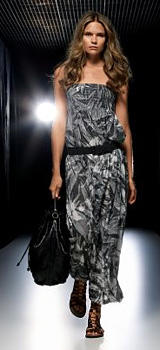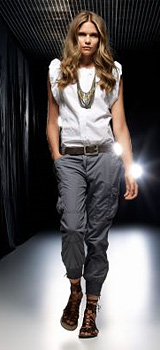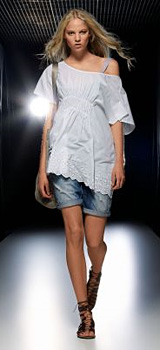 EASY STYLE
Today's casual style has many sources of inspiration, from military apparel to romantic atmospheres and sport accents. The eternal constant is a comfort-driven style. Linen, jersey and chambray are decorated with heraldry details, ensuring this theme wants for nothing.
URBAN COLORFUL
Lolita in sportswear style seems to be the woman this part of the collection was designed for. Humour and colour permeate a range of fashion-led ideas composed of mini pieces like tops, miniskirts and waistcoats. The recurring theme in Urban Colorful is tartan check, in very bright colours, to wear with loose-fitting light muslin blouses. Lastly, a shower of sequins throws light over the whole theme.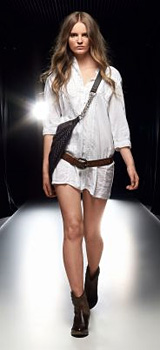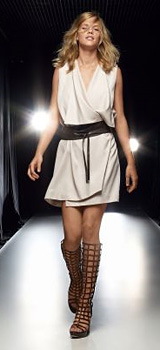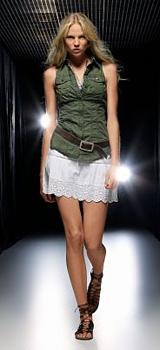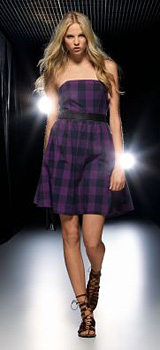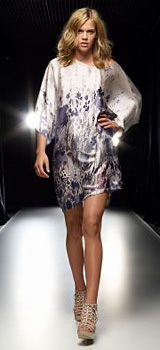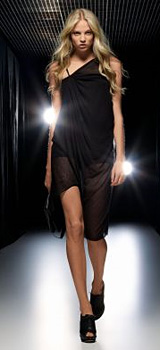 Hits: 17109 | Leave a comment