Explosion of colours in Benetton's Spring/Summer 2012 Women's Collection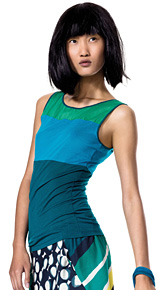 United Colors of Benetton's collection for spring/summer 2012 is an irresistible, unstoppable explosion of colours. Vibrant colours and prints – long-standing brand signatures – are the seasonal must-haves. Colours highlight all the trend-setting elements: geometric shapes, patterns, decoration, fabrics, moods and ideas for a long, hot summer.
*Polka-dots* – Showers of even, ordered, uniform polka dots, or cascades of large and small ones, overlapping like soap bubbles. They settle on cotton pullovers and silk Bermuda shorts and on skirts and dresses, always contrasting their neutral or non-neutral background.
*Silk* – The latest trend requires silk to be glossy, brilliant, flowing: exactly as we've always imagined it. Elegant and chic for cigarette pants, tulip mini skirts, masculine-cut shirts or scarf-blouses constructed on movement and pattern. The only rule to follow is to wear one silk article at a time and match it with strictly matt and perhaps even rough denim, cotton, jersey or knitted fabric.
*Lace* – Cool, simple, almost childlike broderie anglaise is the starting point for variations on a lace theme. Rather than just a decoration, it becomes the fabric of choice for a full wardrobe. It's obvious that even knitwear, with its open-work and sheer effects, aspires to being considered lace.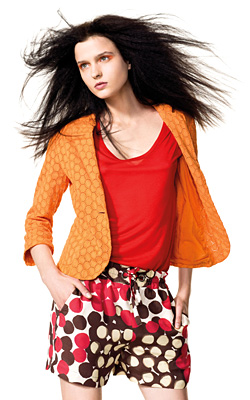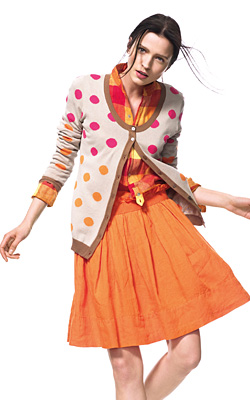 *Flowers* – Tiny, romantic and printed all-over, like oases of peace in a garden. Floral patterns mix and match even on the same garment: they give a cool air to little sleeveless shirts or soft blouses, a precious touch to slip dresses. Or, for something completely different, there are maxi flowers; enormous, tonally-printed hibiscus blooms in proportion to the length of dresses and long skirts.
*Stripes* – All colours, all sizes, all directions: they intertwine, disappear, follow one another in random order or perfectly aligned. Variations on the theme depend on style creativity and colour schemes, from thin-striped shorts to the maxi-striped scarf-blouse, from the simple kimono-blouse to sailor T-shirts or vaguely ethnic jacquard knits.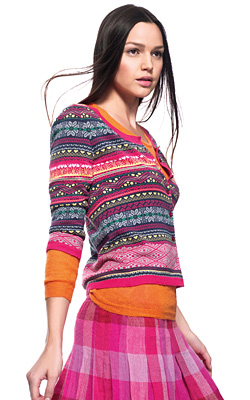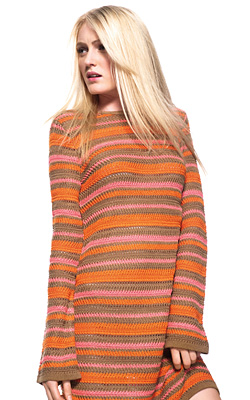 *Checks* – Not exactly checks but rather summer variations on tartan, which therefore takes the shape of a gabardine trench coat or ankle-length kilts (but made of muslin!) with the classic leather buckles; or Madras for folk sun dresses and, ultimately, they become hesitant, right-angled brushstrokes for slip dresses.
*Blues* – Digressions on the blue theme: formal trousers, the chic cardigan, the elegant blouse or refined dress. Then there's the indigo of denim and all its classic variations from jeans to shorts, from a short jacket to a mini bib-and-braces. Summer blue may become turquoise and turn into large, rich, knee- or ankle-length gathered skirts, jodhpurs to wear with a blazer or cotton sheath dresses. Blue is classically matched with off-white.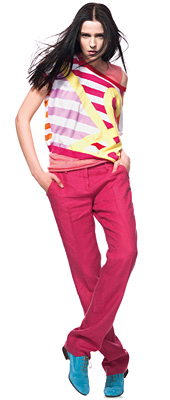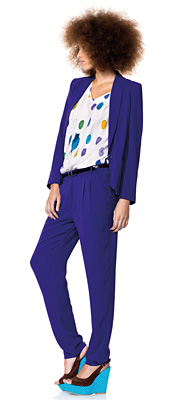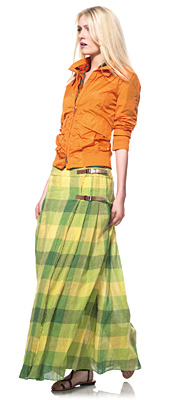 Photos: G. Rustichelli/FABRICA


Hits: 20791 | Leave a comment