Halloween chocolate muffins with spider web
Happy Halloween!
Enjoy the celebrations and add some sweetness to them with this thematic muffins: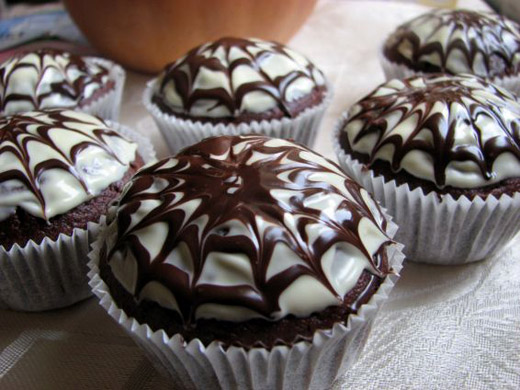 Ingredients:
200 g flour
100 g sugar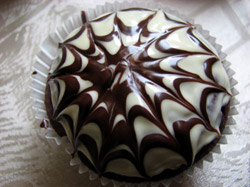 1 teaspoon vanilla sugar
2 tablespoons cocoa powder
2 teaspoons baking powder
½ teaspoon bicarbonate of soda
2 eggs
150 ml milk
90 g butter
70 g dark chocolate
For the topping:
100 g white chocolate
50 g Plain chocolate

Method:

1. Preheat the oven to 170C.
2. Mix the flour, bicarbonate of soda and both sugars in a bowl. Beat the egg with milk and melt butter in another bowl, then pour this on the flour mixture and add the pieces of chocolate.
3. Spoon the mixture into the cases to about three quarters full. Bake for 20-25 minutes until well risen. Loosen the edges with a round-bladed knife, let them sit in the tins for a few minutes, then lift out and cool on a wire rack.
4. For the topping - Break the dark and white chocolate into separate bowls and melt in the microwave on Medium for 2 minutes.
5. Put 2 spoonfuls of dark chocolate in one bag (made of greaseproof paper or cut the ends off two clean plastic bags) and the same of white chocolate in the other.
6. Spread over the white chocolate and pipe four concentric circles of dark chocolate on top. Using a small skewer, drag through the circles at regular intervals, from the centre to the edge, to create a cobweb effect.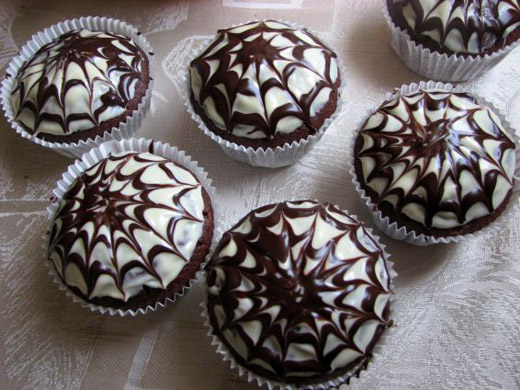 Photos: © Fashion.bg Ltd.


Hits: 6049 | Leave a comment