Tag: 3D effect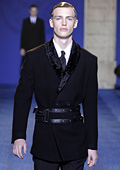 World fashion
This season's Versace collection for men presents an optical game of shapes, proportions, colours and graphics, conducted with a knowing and contemporary nod.

This is not, however, a look that sparkles and shines. Instead the luxurious aspect of the collection – such a hallmark of the Versace brand – comes from the fine fabrics used and the expert tailoring employed.

The foundation of the collection comprises highly sartorial elements, with garments that have a new volume and are less rigid and softer than previously.