Tag: Belarus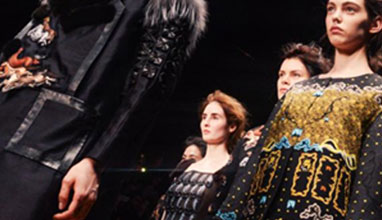 World fashion
Mercedes-Benz Fashion Week Russia will take place from March 12 to March 16, 2017, the second edition of Fashion Futurum International Conference is scheduled for March 16-17, 2017. Over 100 young and established designers, Live Streaming Video, Virtual and Augmented Reality, Art Heritage Exhibition, vibrant street style - for one week all local and some international fashionistas are to be detected nearby Moscow Man?ge, the central venue of #MBFWRussia, next to Red Square. The Manege will host the Fall/Winter 2017 collections by fashion designers from Russia, Ukraine, Belarus, Kazakhstan and other countries.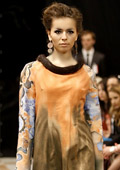 Fashion collections
From 23 to 28 April 2013 many local names and several international designers presented their Fall-Winter 2013/2014 collections during Belarus Fashion Week in the country's capital city Minsk. During the sixth edition of international professional and cultural weeklong event leading Belarusian labels like Boitsik, Fur Garden, Marinich, Tarakanova, Historia Naturalis, Kucherenko, Davidova, Natasha Tsu Ran, Svetlana Todorskaya, Harydavets & Efremova, Lena Tsokalenko, Maria Dubinina, Valeria & Anastasia Aksionovi, Zina Fedunina presented their avant-garde lines.
Fashion shows
Eccentric and unconventional models triumphed on the catwalk in Minsk during the fashion week in Belarus.

Over 70 representatives of major stores and boutiques of Belarus, Russia, Ukraine, Lithuania, and Poland have come to attend the Belarusian Fashion Week. Director of the project Yanina Goncharova told the press conference that was held to highlight the opening of the first Belarusian Fashion Week.